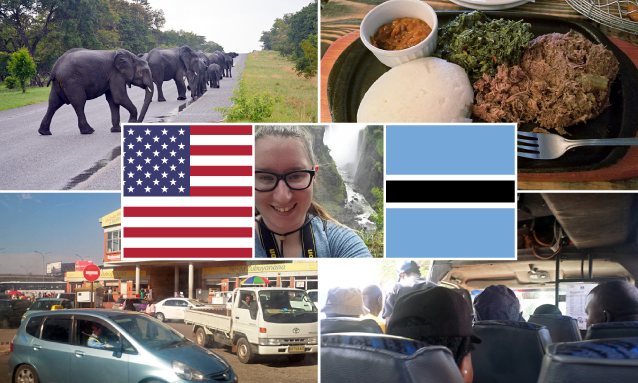 Christmas in Botswana
I have to admit, I didn't know much about Botswana or southern Africa until one of my best friends told me two years ago she was thinking about serving in the Peace Corps, and ended up being assigned there.
As she prepared for her move and learned about her new home, many of her friends and family learned alongside her, some of us fortunate enough to visit her, like I did during the holidays.
The long haul
Getting to Africa is no easy task. After a quick hop from MSP, my trip really started with a 16-hour flight from Atlanta to Johannesburg, South Africa. I later learned it's one of the longest flights in the world. 
After an overnight stay in Johannesburg, I flew to Gaborone, the capital of Botswana. 
During our taxi ride to her apartment in the town of Lobatse, southwest of the capital and 30,000 people strong, my friend Megan turned to me and said there were just three Setswana words I should know: dumela, "hello;" go siame, "goodbye," or "it's all good;" and tanki, which means "thank you." 
While most in Botswana are taught English and all the signage is in English, most prefer to speak Setswana. The country of just more than 2 million people sits atop South Africa and was a British colony until 1966. Megan, when not a couple hemispheres away, is an East Sider, and has been living in Botswana for a year and a half.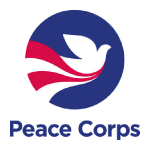 The Peace Corps has her working in the district commissioner's office — a district is similar to a province or state — in the AIDS Coordination Office, where she helps with tracking program data, such as how many people are tested for HIV, their results, the transfer of HIV between moms and babies, and helping plan educational events. She also works with a life skills and peer education club at the local high school.
I was arriving in Botswana during Festive, which is how the Batswana, the people of Botswana, refer to the holiday season. It was also summer break for schoolchildren, so many people were traveling back to their home villages to visit with family.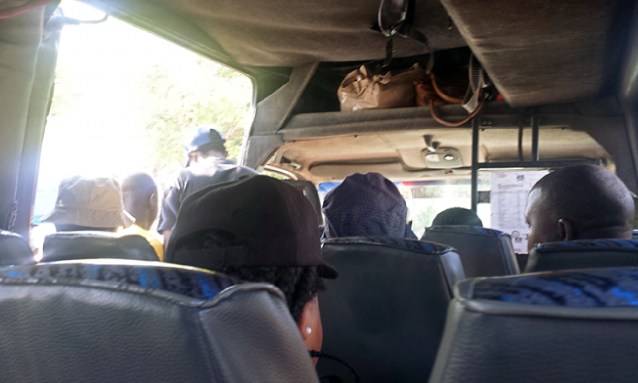 Culture shock
Because the Peace Corps wants its volunteers to live the same level of life as their host country citizens, our trek to Kasane, where we'd arranged a river cruise and safari, was going to be a little bit different than how most tourists would normally travel there, which gave me a better understanding of Botswana culture. Most would rent a car and drive, or fly. Us, we would be traveling for nearly a day, first via a night train from Lobatse to Francistown, and then on a small bus, called a sprinter, from Francistown to Kasane. 
I won't lie, the trip up was hard. I didn't sleep much on the train and when we arrived, tired, in Francistown, the culture shock hit me hard. We got off the train onto a busy platform, where families with their luggage, taxi drivers, merchants, all kinds of people all over, were speaking Setswana. We bought our tickets for the ride back home, and then walked a few blocks north to the Francistown bus rank. 
A bus rank is basically a big parking lot full of large buses, sprinters and taxis, and it's very hectic and busy. As you walk towards it, "helpers" will come up and ask you were you need to go, directing you to a sprinter that needs to be filled up. There're no signs or maps or fare information.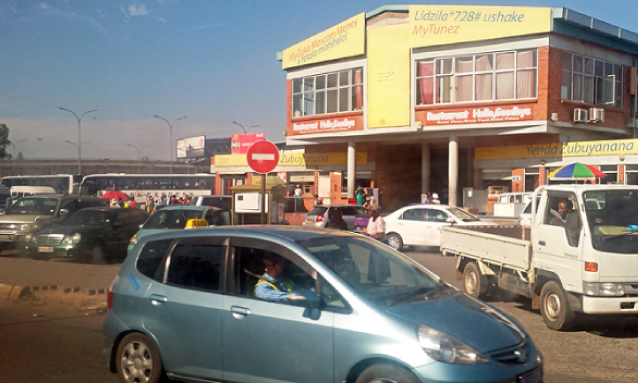 A bus might have a hand-written sign with a town or village name on it, but otherwise it's just knowing how the bus rank works that will help you find your way. Unless I had my friend there, I would have been completely lost. I was definitely overwhelmed. 
For our trek from Francistown to Kasane in the sprinter, nearly 500 kilometers or just over 300 miles, it cost each of us 135 pula, which is roughly $13 USD. Pula, which means "rain" in Setswana, is the Botswana currency. We were exhausted from our trek when we finally reached our Airbnb, but our stay in Kasane would make the long journey worth it.
Kasane
Kasane is very much a tourist town with lodges for travelers who come to Botswana to see four of the African big five — elephants, lions, Cape buffalo and leopards. Rhinos, the fifth of the African big game, are not found in Chobe National Park, but are found in other parts of Botswana. 
Most people go to Kasane for game drives and boat cruises. Our cruise was on Christmas Day in the evening, when the wildlife would be most active.  The cruise was on the Chobe River, the namesake of the national park, and was great in terms of closeness to wildlife, but you're with every other tourist and safari company in Kasane, so the river is full of motor boats. However, the animals didn't seem to mind, as our guide would bring us close to creatures like Cape buffalo, hippos and crocodiles, which were nearly 10 feet long.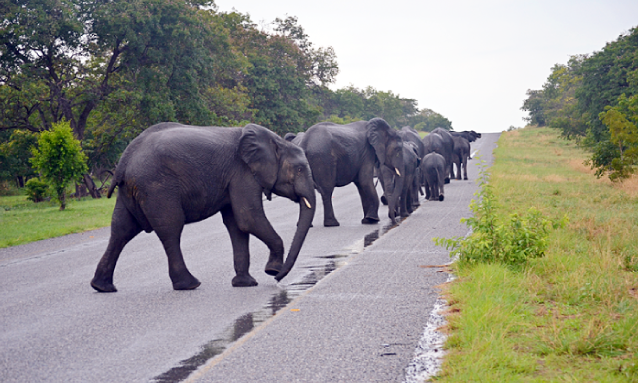 The next day in the early morning was our game drive, in which our same guide, David, drove us through the park in a 4×4, the quintessential safari vehicle. This was the day we hoped to see elephants, the wildlife I was most looking forward to on the trip. 
Chobe National Park has the largest elephant population in the world; David told us there are nearly 50,000 living there. However, because of the previous night's rain, he wasn't sure how many we would see, as the elephants retreat deeper into the park when it rains.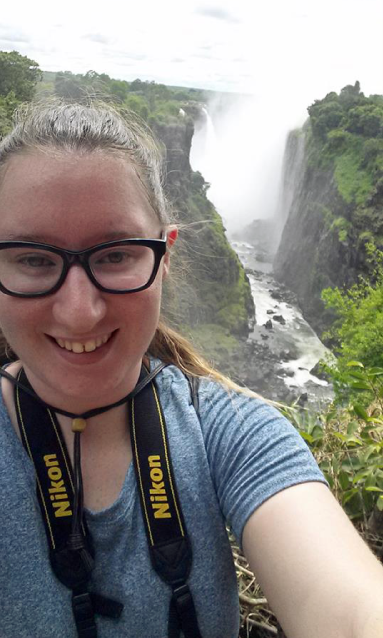 Victoria Falls
The final part of our stay in Kasane was a day trip and border hop to Victoria Falls in Zimbabwe. A visa to Zimbabwe costs $30 USD and it's easiest to use a guide to cross the border, as its is often clogged by lories making deliveries across the international line.
When our driver dropped us off at the park's gate, you could already feel the mist of the falls, which were still about a 15-minute walk away. Again, we paid with U.S. cash, the preferred currency in Zimbabwe, as its dollar was abandoned in 2009 due to a lack of value.
Describing a visit to Victoria Falls, one of the Seven Great Natural Wonders of the World, can only capture so much of the experience. The cataract on the Zambezi River is more than a mile wide and 350 feet tall, figures that combine to make it the largest in the world.
The first time seeing the falls and hearing their rumble, I couldn't believe I was there. It was magnificent. 
A walking path goes along the length of the falls, with lots of viewing spots to stop and take pictures. As you walk along, you become increasingly soaked by the falls' mist. A small rainforest surrounds the falls, created by the constant airborne water. 
As an international tourist spot, I heard languages and saw people and families from nearly every continent. And we all did the same thing — take selfie after selfie. 
After walking through once, we ate at the park's restaurant. We walked through the park one more time without taking pictures to really see the falls, often just sitting and watching the water tumble over the edge.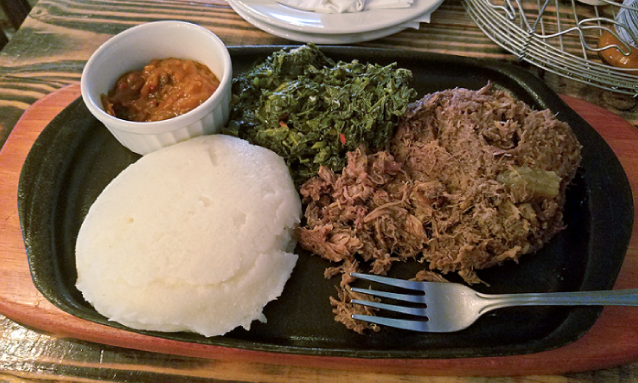 Batswana
After four days in Kasane, we made the long trek back to Lobatse. While it wasn't nearly as hot as our way up, we still had our travel difficulties. Nearly 30 minutes into our six-hour sprinter ride, our bus broke down in the middle of the African bush, after having just passed a herd of some 50 elephants. To me, it seemed like a long time waiting for an empty bus to pick us up, knowing the lions and hyenas could be anywhere in the bush around us. 
However, most of the Batswana got off the bus, sat around and made jokes to pass the time. Once we arrived in Francistown, our night train that was supposed to leave at 9 p.m. didn't leave until two hours later, leaving Megan to say in a moment of frustration, "Typical Botswana."
While there's so much more to say about Botswana and its people, I think it's best to visit the country yourself, or at least to familiarize yourself with Africa's southern geography.  An area of the world that is often forgotten about in our Western-centric general education, its importance and impact on the rest of the world cannot be slighted, whether it be the country's diamond trade or its protection of well-known but endangered species. It's a country that deserves more recognition.
I think one of the silliest things I did in preparing for this trip was believing I was immune to culture shock. I went into it thinking, "I'm open minded, I'm open to new things, the culture shock won't affect me."
But it's not necessarily about being open minded — it's that you're a stranger living in another world. And not only that, you are coming from a country that many Batswana aspire to get to. 
Many would tell Megan and I, "Oh, I want to go to America," thinking that all their problems would be solved. But we told them America is not perfect, it has just as many problems, just as many people struggling. Still, to Batswana, it was strange to see two American women sitting next to them on a hot and sweaty sprinter bus, which led to a lot of stares and questions. 
---
But, when I talked with the friendly Batswana about their lives and held their babies on the sprinter, it made the world seem a little smaller seeing that we aren't really that different. 
It's easy to forget that there are other people around the world who are in the same boat as the rest of us, trying to make ends meet, raise a family and generally be happy and follow their dreams; Botswana is no exception.
By Marjorie Otto
---
Marjorie Otto can be reached at 651-748-7816 or at eastside@lillienews.com. Follow her on Twitter at @EastSideM_Otto.