One of Botswana's hottest music pairing, Dj Kuchi and Han-C have done it again! Two weeks ago they stormed back up to the top of the local charts with 'rejection', an addictively catchy tune that always had number one written all over it straight off the bat. 
Dj Kuchi Ft Han-C – Rejection (Official Lyric Video)
The duo can't seem to ever put a foot wrong as evidenced by their most recent offering, 'love hates me' which we brought to you back in June. "Rejection', however, promises to be an even bigger hit.
Nkare nka mo re kga kga kga – the chorus on rejection is everyone's lips at the moment!
Rejection was officially launched this past Saturday at the CBD's  popular watering hole, Chez Nicolas Lounge, where the duo also planned to shoot clips for the official video. 
Han-C, a former finalist on the talent search show, My African Dream, is clearly riding on a crest wave as he is being put forward for a slew of awards at the upcoming YAMA awards scheduled for December 10.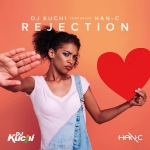 Han C is up for 5 nominations (YAMAS)
Artist of the year/People's Choice
Song of the year – Mafura fura
Best dance – Mafura fura
Best collaboration -Mafura fura
Best single male – Mafura fura

 
Rejection is available for download via YouTube, iTunes and Spotify.
Image source: Dj Kuchi FB page