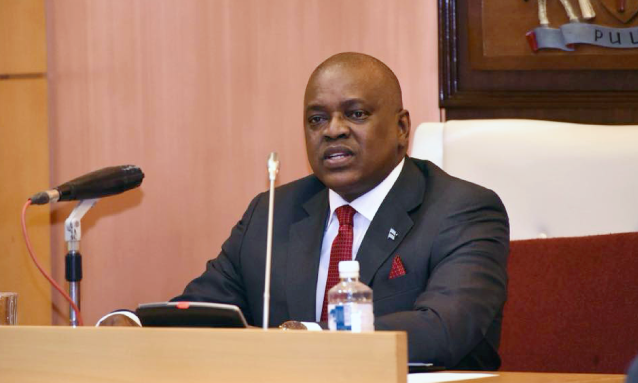 President Dr Mokgweetsi Masisi says Botswana's domestic economy is expected to grow stronger in the medium term. He highlighted this when delivering his maiden State of the Nation-Address (SONA) on November 5. Dr Masisi noted positive growth in both the mining and non-mining sectors would strengthen the economy. 
He explained that positive growth in the non-mining activities is expected in the services sector, particularly the tourism and retail sub-sectors. This follows last year's 2.4  percent domestic economy slow-down, due to both the mining and non-mining sectors' weak performances.
Dr Masisi further said domestic inflation is projected to remain within the 3-6 percent objective range in the short to medium term. He said merchandise trade balance continues to be driven by the diamond trade, with total exports valued at P60.15 billion last year. He added that total imports were valued at P54.9 billion, resulting in a trade balance surplus of P5.25 billion last year.
The President also said last year's 35.5 percent increase to P17.3 billion in revenue flow from the Southern African Customs Union (SACU) coupled with the merchandise trade account's modest surplus, have resulted in a surplus of P22.23 billion in the current account balance. However, the President explained that the overall balance of payment had a deficit of P3.3 billion last year compared to a surplus of P2.8 billion in 2016.
"The deficit was mainly attributable to the government's financial obligations, including the funding of Botswana's Diplomatic Missions in various countries, payment of imports and external loan repayments, resulting in withdrawal from foreign exchange reserves," he said.
He also said foreign currency revaluation losses, which resulted from the appreciation of the Pula against the US Dollar, have also contributed to the overall deficit balance. Dr Masisi said as at this July, the foreign exchange reserves increased to P75.1 billion after declining four percent to P73.7 billion in December 2017.
The President further said export development and promotion efforts yielded a total of P2.36 billion in the 2017/18 financial year in export revenue, an increase from the previous financial year. 
Reference: BOPA
Image source: Mokgweetsi E. K. Masisi Facebook page