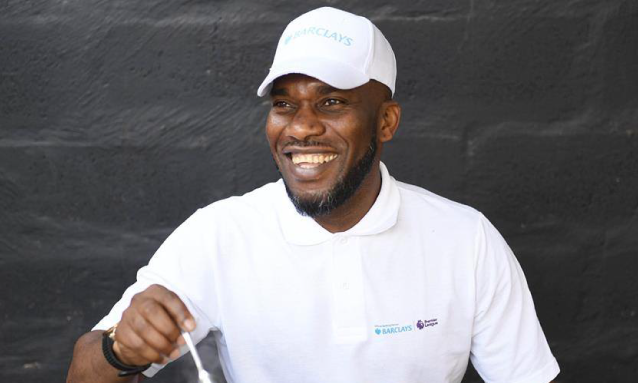 Former Bolton Wanderers football star, Austin 'Jay Jay' Okocha last Sunday concluded his promotional tour of Botswana by holding a coaching clinic at Maruapula Secondary School.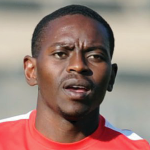 Okocha alongside former local footballer, Dipsy Selolwane (pictured right) put the aspiring football players – enthusiastic Stepping Stones youngsters – through their paces. Stepping Stonesis one of Barclays Bank Botswana's long-term community partners based in Mochudi.
Okocha earned himself a name throughout his football career as an Olympic gold medalist at the Atlanta 96 Games and represented Nigeria at three FIFA World Cups. He also played club football at some of Europe's elite leagues; the English Premiership League, German Bundesliga, French Ligue 1 and Turkish Süper Lig.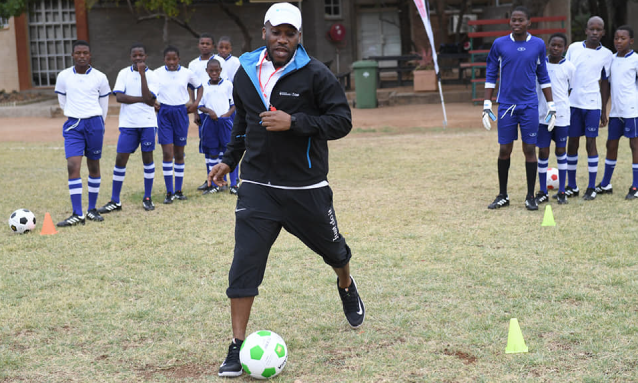 Barclays Bank Botswana's Spencer Moreri said getting an international sporting legend of Okocha's calibre involved in motivating the young aspiring footballers is part of the bank's effort to give back to society. Barclays Bank Botswana is heavily invested in unearthing local sporting talent.
"We have had very exciting moments during Okocha's tour. We had interesting fruitful discussions on local radio stations, media engagements and the viewing of an English Premiership match with some of our local super fans," Moreri said.
He said Okocha's visit was part of the overall marketing strategy which would include Barclays sending some local fans to the United Kingdom to watch live English Premiership matches at some of its famous football stadiums.
"Our regular customers, as well as those who will move their bank accounts to Barclays, will stand the chance of being entered into a draw, a chance to win the prize affording them the opportunity to go and watch the Premiership in England.

The English Premiership has a large following locally and we want to assist our supporters to have that once in a lifetime opportunity to experience the matches live," he highlighted.
Okocha – widely regarded as one of the greatest footballers to come out of Africa – enjoyed a football career spanning 18 years, from 1990-2008. Okocha scored 74 goals from midfield in 454 appearances for clubs such as Eintracht Frankfurt in Germany, Paris Saint Germain in France, Turkish side Fenerbahçe as well as English sides Bolton Wanderers and Hull City.
A skilful midfielder, Okocha was capped 75 times by Nigeria, scoring 14 goals, featuring in 1994, 2008 and 2012 World Cup tournaments and being part of the 1994 African Cup of Nations winning side.
Reference: BOPA
Image source: Barclays Bank of Botswana