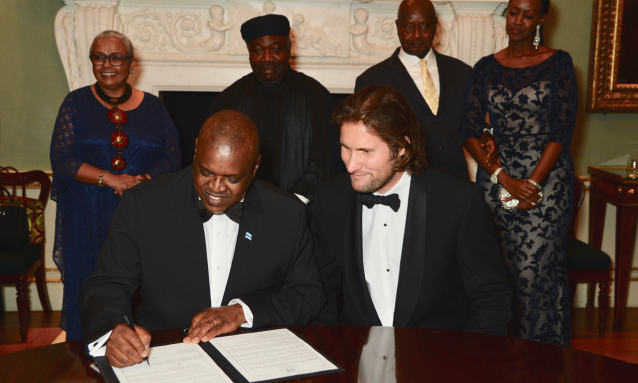 Botswana's President H.E. Dr Mokgweetsi Masisi became the fourth African head of state to join the Giants Club after signing the forum's declaration last Thursday in London, according to a press release on Tuesday.
In the press release, the Giants Club said Masisi has joined Presidents Ali Bongo Ondimba of Gabon, Uhuru Kenyatta of Kenya and Yoweri Museveni of Uganda to head the Giants Club. Botswana's former president Ian Khama acts as President emeritus.
Together, these individuals combine their exceptional political muscle, extensive financial resources, pioneering scientific expertise and global reach and influence to fulfill the club's goal of effectively protecting half of Africa's elephants by 2020.
The Giants Club is an initiative of the international conservation organization Space for Giants that unites the leaders of African elephant-range states with international financiers, conservationists and celebrities.
Together their nations are home to more than half of Africa's 415,000 remaining elephants. Botswana alone hosts 130,000-150,000 elephants.
President Masisi formally joined the club during a private dinner it held at Spencer House in London attended by President Museveni, President Bongo, Kenya's First Lady Margaret Kenyatta and several of the club's members.
The Giants Club Declaration sets in writing the support that the club will offer its presidents as they commit their governments to significant international elephant protection mechanisms.
The Giants Club membership is dedicated to supporting its presidents to achieve their domestic conservation agendas, funding Space for Giants to give technical guidance or to deliver active conservation programs.
Source: Xinhua