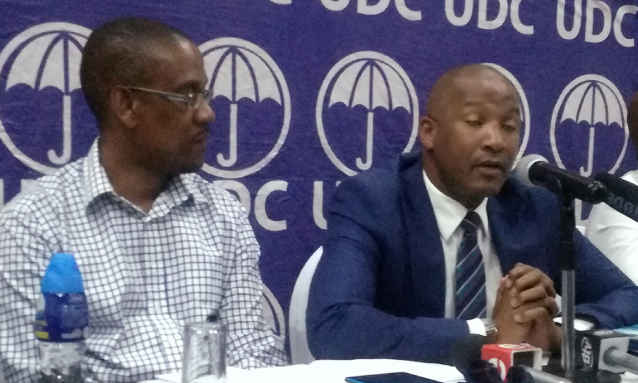 Botswana Movement for Democracy (BMD), one of the political parties that are constituent members of the Umbrella for Democratic Change (UDC), has been suspended from the opposition collective.
Addressing the media during a press conference held at Oasis Motel in Tlokweng this Wednesday, Leader of the Opposition and UDC leader, Advocate Duma Boko (pictured above right) said the decision to suspend the BMD was taken after careful consideration of various issues affecting the opposition collective.
Flanked by other UDC leaders, Messrs Dumelang Saleshando (pictured above left), Dennis Alexander, Justin Hunyepa and President of the BPP, Motlatsi Molapisi, Advocate Boko said subsequent to various complaints about the conduct of the BMD within the UDC, a decision was taken to serve the BMD with a suspension.
"We received very uncomplimentary feedback regarding the leader of the BMD (Advocate Sidney Pilane) and realities compel us to offer a response to the various issues reaching the leadership. On the 18th of September the UDC leadership met to discuss this issue.

The four parties within the UDC (the BMD plus Botswana National Front, Botswana Congress Party and Botswana People's Party) had their presidents break away to have frank discussions on the matter and we had honest, proper engagement.

A week later, on Tuesday, September 25, we then reached the decision to suspend the BMD following due process and the UDC constitution," Advocate Boko said.
The BMD has been given until October 18 to respond to the issues raised in the official communication suspending it, Advocate Boko further elaborated. Addressing the issue of constituencies allocated to the member parties within the UDC for next year's general election, Advocate Boko said the constituency allocation could be under review based on the strength of the candidate deployed by the member parties.
He further said that the UDC has an operational constitution that was approved in 2012 and amended after the constitutional conference held in Tlokweng earlier this year. Meanwhile, a press release from BMD Secretary General, Gilbert Mangole acknowledged receipt of a letter from Advocate Boko communicating the suspension, a decision the BMD does not accept.
"The position of the BMD is that the purported decision is unlawful for a number of reasons and is a nullity. The decision is also without valid basis. The BMD is a valid member of the UDC and does not accept nor acknowledge the purported suspension," Mr Mangole wrote.
Reference: BOPA