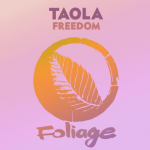 Local fusion duo, Taola, have signed their third single 'Freedom' under London based record label 'Reel People'. The song, which blends afrobeat rhythms with the richness of African elements get sober in their lyricism with a call for 'freedom'.
"We couldn't be more excited about this affirmation of our work. Reel People Music has a footprint of working with amazing artists globally that have inspired our work so it means a lot," states duo Thato Chuma and Bonolo Mogotsi.

"To have Manoo remix it was the cherry on top, as this is a song we really enjoyed putting together."
The song was produced by Bonolo 'B Note' Mogotsi, with local guitarist Trevor Ramolemana, adding colourful rhythms to the song. It was originally published under their label 'Taola Productions' in 2017.
"We wanted to give it a bigger platform and wings to cross into the international market as its lyrics resonate with anyone.

The song was inspired by the social climate we find ourselves in, where people seek many facets of freedom, promised by their governments. It is a social comment that poses a statement of how we continuously wait for freedom when we should be the ones to free ourselves," explains the duo.
Reel People is London's acclaimed record label that has produced and remixed songs for the likes of Incognitos's Tony Momrelle, Portia Monique, Phonte, Zo, Muhsinah, The Layabouts, Immani and other artists and DJs globally. Recently celebrating their 10-year anniversary, their catalogue expands from acid jazz, nu jazz, soul to afro and deep house.
The song is also remixed by DJ Manoo who is renowned in the house music community as one of the greatest talents globally and of the French House community.
---
Freedom is available to order Traxsource and other digital platforms worldwide. The song is released under Foliage Records, a sister label to Reel People that publishes afro, soul and deep house. For more information, please visit the 'Taola' Facebook page or 'taolabw' on Twitter.
---
Source: Sunday Standard