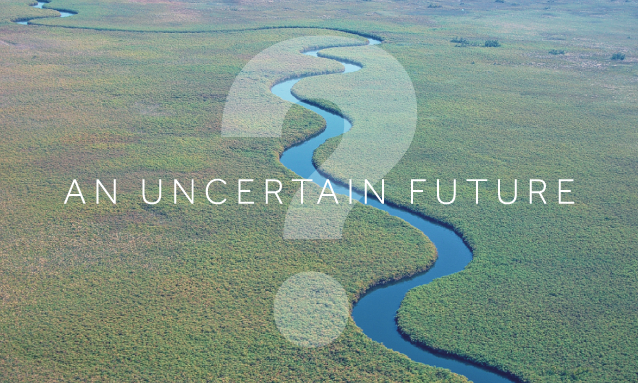 Conservationists are racing to protect the UNESCO world heritage site's two main source rivers in Angola
"The number one rule of safari is that we are just visitors," Keokeditswe Gabine, "KK," a seasoned safari guide of 25 years and native of Maun, Botswana, told our group of ten the first day of our ten-day safari in Chobe National Park and the Okavango Delta.
The rule emphasized that the incredible flora and fauna of the Okavango Delta, a UNESCO World Heritage Site that swells to 8,500 square miles from winter floodwaters, has been thriving for millennia without — or in spite of — humanity's presence. The best attitude while exploring the world's largest inland delta, which is home to the world's largest remaining herd of elephants, was to act like respectful visitors in someone else's house.
The Okavango Delta itself is a kind of visitor, changing in size with the seasonal flooding from headwaters in the Angolan mountains nearly 750 miles to the north. That surge, like life-giving air inflating lungs, creates one of Africa's largest and most diverse concentrations of wildlife, a temporary oasis rising in the middle of the Kalahari Desert, that's home to hundreds of species of birds and animals, including some of the world's most endangered large mammals, such as the cheetah, white rhinoceros, black rhinoceros, African wild dog and lion.
National Geographic recently estimated that the world could lose half of its wildlife population by the beginning of the next century. We wanted to see the wildlife of Africa, the stuff of dreams and childhood stories, before we could only imagine them.
This unique ecosystem has persisted into the twenty-first century in part because of Botswana's unique history. Because the Kalahari spreads across 80 percent of Botswana, the country has avoided colonization, peacefully ridding its status as a British protectorate in 1966. At the time, Botswana was one of the world's poorest countries, but just a year later, in 1967, it discovered significant diamond reserves. That, along with stable governance, sensible economic management, and a relatively small population of 2.4 million, quickly turned Botswana into a development success story. Today, the sparsely populated country protects some of Africa's largest wilderness areas.
Indeed, Botswana's 50-year stable and productive history resembles Marvel's Wakanda more than any other African nation.
But the fate of Botswana's prime wilderness area, the Okavango Delta, is not within its hands. The health of the delta is linked to its source rivers that originate in the north, in war-torn Angola and flow through Namibia before entering Botswana, the only country where they are protected by law.  Angola could soon turn to big agriculture projects and mining to jumpstart its shattered economy, releasing fertilizer run-off and other wastes that would travel down into the Okavango and seriously disrupt this pristine ecosystem.
Since 2015, a group of scientists, storytellers and guides have been traveling through mine-laden Angola to explore and protect the delta's two main source rivers — Cuito and Cubango — as part of the National Geographic Okavango Wilderness Project (NGOWP).
For the full article: http://www.earthisland.org/journal/index.php/elist/eListRead/botswana_wilderness_area_okavango_delta_faces_uncertain_future/