The Botswana Congress Party (BCP) has reportedly started coalition talks with the Botswana National Front (BNF).Mmegi has learnt that the executives from the two parties have so far met twice for 'exploratory' talks in relation to forming a coalition to contest the 2019 general elections.  The publication quoted the BCP leader, Dumelang Saleshando, confirming that the BCP has started talks with the BNF with regards to working together in the forthcoming general elections.
"By entering into talks with the BNF, we are implementing one of the resolutions taken by party members at our (BCP) conference in Bobonong last month. I cannot say much about our talks with the BNF because they are very sensitive," Saleshando reportedly said.
According to Mmegi, BCP members resolved last month that if the problems within the Umbrella for Democratic Change (UDC) persist and impede progress within the coalition, the BCP should engage in bilateral discussions with the BNF with a view to forging a working relationship for the 2019 elections.
However, after the BCP conference in Bobonong, Saleshando told a media briefing that negotiations for a reconfigured opposition coalition with the BNF have to start forthwith while the problems within the UDC are being addressed.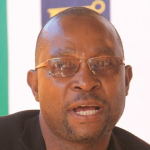 BNF spokesperson, Justin Hunyepa, while confirming that the BNF recently met the BCP, shared a slightly different version to Saleshando's.
"The main agenda was to discuss how we could win the election as a united opposition, not specifically with the BCP. We will be holding such bilateral meetings with the Botswana Movement for Democracy (BMD) and the Botswana People's Party (BPP). We will soon be meeting them (BMD and BPP)," he said.
Mmegi asserted however, that it had learnt that the latest meeting between the BNF and the BCP took place on Wednesday in Gaborone. The first meeting is said to have taken place just days after the BCP conference in Bobonong.
"The two meetings were about exploratory talks. Full-blown bilateral negotiations, are due to start later this month and may continue for some weeks," the paper quoted a high-ranking insiderfrom one of the two parties.
The consensus among politicians and commentators is that a marriage between the BNF and the BCP is very feasible. Those backing a coalition between the BCP and BNF believe that the two parties can harness their combined figures to mount a strong challenge against the ruling Botswana Democratic Party (BCP) at the 2019 general elections. Both party leaders have reportedly agreed to a news blackout on key areas of the bilateral talks.
It is widely believed that the UDC's party woes might not be resolved in time and the differences over constituencies as well as ward allocations may persist, which ultimately means that BNF and BCP may work together in 2019.
Source: MmegiOnline