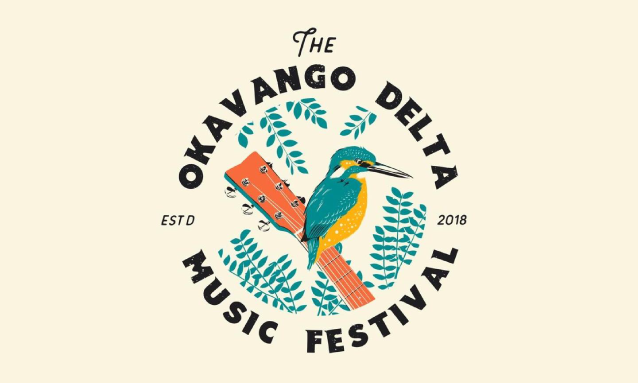 The 2018 Okavango Delta Music Festival (OKMF) will be hosted on the edge of the Okavango Delta, on 'Rockston Island' in Tsutsubega, at the end of this month. OKMF is an annual three-day camping event, celebrating African music in a wild and ancient forest, surrounded by a beautiful floodplain in the delta.
Festival Director, Adrian Dandridge says;
"The event brings together fabulous musicians and bands from all over Southern Africa and further afield alongside circus acts, drumming circles, fire-dancing and theme camps for Botswana residents and visiting tourists to enjoy. The Tsutsubega community hosts the OKMF annually and in return, receive benefits that improve the livelihoods of the community members and diversifies tourism that Botswana can offer to locals and internationals."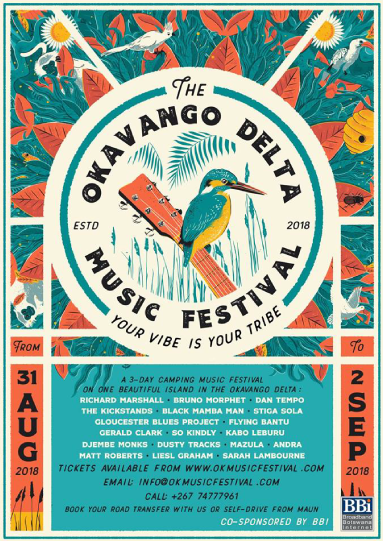 The event will bring more tourism into marginal areas. Dandridge says because not everyone can afford the five-star lodges in the Delta, this new kind of tourism can bring people in for much less to enjoy music tourism rather than safari/wildlife tourism in the area, thus diversifying tourism in the area to benefit the community. Local bands as well as those from around the SADC region and further afield are booked to perform.
There will be several theme camps on the festival island. These include a cinema, a yoga camp, beer tents, food stalls, gin stalls, ice camp, kids' entertainment camp, swimming spot camp, donkey cart rides, tequila bar, cabaret, drumming circles, fire-acts, circus acts and a silent disco.
Camping is the only accommodation provided at the OK Music Festival – self-sustainable, standard and VIP luxury. The venue can be reached by 4×4 and the route will be well signposted to guide attendees to the island. Shuttle game-drive vehicles are also available leaving Maun (from the Tshilli Farmstall Café, near the airport, on the hour every hour over the three days of the festival.
Helicopter Horizons is offering a fly-in option with a special of P850 per person helicopter flight from Maun airport to the Festival Island (10-minute flight) to land on the festival island helicopter pad.
Children are welcome and safety is of paramount importance. There are full-time doctors and medics on site and a helicopter for emergencies; with every festival ticket price including medical insurance for the duration of the event.
To purchase your tickets and more info, please follow the link: http://www.okmusicfestival.com/buy-tickets-now/
Source: tourismupdate.co.za
Images: The Okavango Delta Music Festival Facebook page