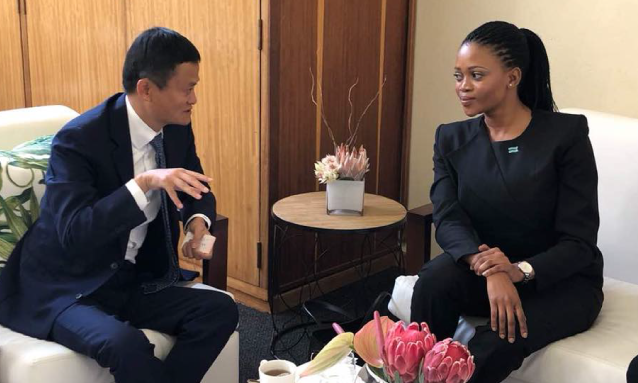 Investment, Trade and Industry Minister, Bogolo Kenewendo this week met with Alibaba founder, Jack Ma.
Kenewendo posted on her official Facebook page on Thursday;
"Had a great meeting with Jack Ma of Alibaba yesterday, discussing our mutual passion for SME development, women and youth. We discussed several things we can do together to benefit Batswana and the African continent!

We are also excited to be part of the UN SGs High-Level Panel on Digital Cooperation, which will meet in September, making one of the many engagements that Jack and I will have towards building a thriving SME sector in Botswana.

Special mention to a dear friend Under Secretary General Dr Kituyi for being so passionate about youth and SME development and for all the support he's giving to my team."
---
Ma Yun, known professionally as Jack Ma, is a Chinese business magnate, investor and philanthropist. He is the co-founder and Executive Chairman of Alibaba Group, a multinational technology conglomerate which has seen its global popularity explode over the years. Alibaba is now the biggest e-commerce company in China, with a market capitalisation of $542 billion after its 2014 IPO; Alibaba is now one of the world's top ten most valuable companies.
---
Alibaba Founder Jack Ma To Launch $10 Million African Entrepreneurial Prize
Meantime, Jack Ma has been in South Africa to launch a new initiative for African entrepreneurs with $10-million in funding. Called the Netpreneur Prize; by 2030, it aims to have built a community of 100 young, African entrepreneurs who will receive grants totalling $10 million.
Having founded what is now one of the biggest e-commerce success stories in the world, Ma is an iconic business figure listed by Forbes as one of the world's most powerful and richest people. He says he uses his Jack Ma Foundation to foster entrepreneurial initiatives, including this one.
Reference & images: Bogolo Kenewendo Facebook page, Forbes.com