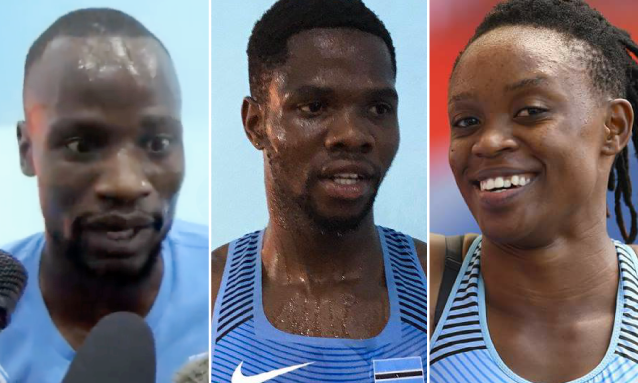 This week it emerged that Botswana athletes, currently in Asaba, Delta State (Nigeria) have been through the wringer having faced all manner of setbacks on arriving in Nigeria. As they remained resolute and continued to collect an impressive stash of medals, you wouldn't know!
This week, the team manager, Ipolokeng Ramatshaba confirmed in an interview that nine athletes and two officials had their passports confiscated by Nigeria's immigration officials last Friday when they arrived in the city, located at the western edge of Niger River.
According to Ramatshaba, the immigration officials demanded that the team pay for their Visas, something he said was meant to be sorted out by the Local Organising Committee (LOC). He said they tried to pay with cash but were told they strictly had to use their Visa cards.
He said this meant that the athletes who had been based in Europe such as Nijel Amos, Onkabetse Nkobolo and Loungo Matlhaku eventually had to pay for themselves, but was adamant they'd be reimbursed by the LOC.
Ramatshaba insisted;
"What happened is water under the bridge and we cannot dwell much on that because we need to focus on what lies ahead of us."
Reports out of Nigeria indicated that over 300 athletes from various African countries were also stranded in Lagos due to the unavailability of flights. Some athletes reportedly spent up to three nights at the airport while some had to share limited hotel rooms. Organisers are also said to have failed to charter flights for teams from Kenya, Uganda, Egypt, Zimbabwe, Burundi, Botswana and Cameroon, while the Ivory Coast contingent reportedly spent 36 hours at Murtala Muhammed International Airport in Ikeja before accommodation was sorted out for them.
As a result, these setbacks forced organisers to reschedule some competition times.
The Confederation of African Athletics (CAA) African Senior Championships started on July 31 and will end today. The games saw a record 52 African countries battling for honours at the newly completed Stephen Keshi Stadium.
Batswana athletes kept resolute to bring back medals:
Nijel Amos became third consecutive AFRICAN champion
Baboloki Thebe won gold in the men's 400m with a time of 44.81
Botlogetswe takes silver in the women's 400m with a time of 51.19 behind South Africa's Caster Semenya in a fast 49.96
The CAA Asaba 2018, which started July 31, is expected to end on August 5 with a record 52 African countries battling for honours at the newly completed Stephen Keshi Stadium.
Reference: BOPA