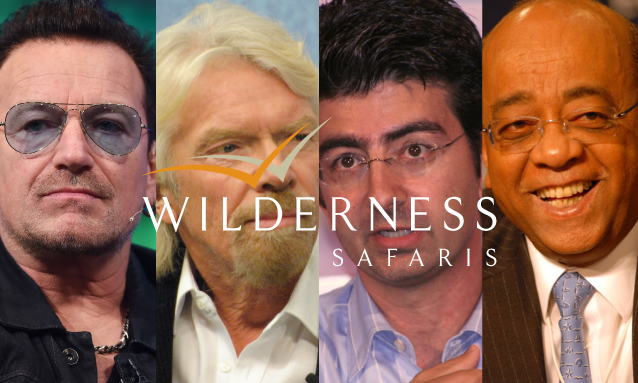 The iconic safari company has announced that it has sold 58% of its shares to two groups, one of which has a Founders Board that reads like a Who's Who of the world's billionaire philanthropists. Safarious deputy editor, Tony Weaver reports.
Wilderness Safaris grew from a tiny outfit founded by bush guides, Colin Bell and Chris McIntyre in Botswana in 1983 – and then joined by the late Russel Friedman – into a tourism and conservation behemoth spanning eight countries: Botswana, Kenya, Namibia, South Africa, Rwanda, Zambia, Zimbabwe and Seychelles.
Wilderness Safaris announced on July 12 that it was selling 34% of its shares to the social impact investment fund, The Rise Fund, managed by the giant US equity group, TPG Growth. This represents a total of just over 80-million ordinary shares.
In a separate announcement, Wilderness Holdings said it was selling a further 24% of ordinary shares – just over 60-million – to African Wildlife Holdings, an affiliate of FS Investors. The shares bought by FS Investors were the entire holdings previously held by Jochen Zeitz, Puma SE, and Kering.
The shares acquired by The Rise Fund were the entire holding held by Wine Investments Limited, described on the Wilderness Holdings website as "a subsidiary of The Travel Corporation, an international travel group with over 25 global award-winning brands owned by the Tollman family and which also controls Cullinan Holdings Limited."
While little information is available about African Wildlife Holdings, The Rise Fund's Founder's Board reads like a Who's Who of the world of philanthropy, tech, a bit of rock 'n roll and industry.
They are – Bill McGlashan, David Bonderman and Jim Coulter, founding partners of TPG Capital; Jeff Skoll, first president of eBay; rock star Bono; philanthropist Lynne Benioff, wife of flamboyant tech billionaire, Marc Benioff (Salesforce.com);British billionaire, Sir Richard Branson (Virgin); Mellody Hobson, vice chair of Starbucks, former chair of the board of directors of DreamWorks Animation and wife of Hollywood director-producer, George Lucas; Reid Hoffman, co-founder and executive chairman of LinkedIn; Sudanese-British philanthropist and telecoms billionaire, Mo Ibrahim; Indian Mahindra conglomerate chairperson, Anand Mahindra; philanthropist Laurene Powell Jobs, widow of Apple founder, Steve Jobs; billionaire philanthropist and founder of eBay, Pierre Omidyar; and Unilever CEO, Paul Polman.
Chief Executive of Wilderness Holdings, Keith Vincent said;
"Wilderness has always been dedicated to a purpose-driven approach based on our 4Cs sustainability ethos of Commerce, Community, Culture and Conservation.

We welcome our newest shareholder, The Rise Fund, and are proud to be standing shoulder to shoulder with such like-minded individuals. We are [now] even more committed to our founding vision: to conserve and restore Africa's wilderness and wildlife by creating life-changing journeys and inspiring positive action."
For his part, the Chief Executive of The Rise Fund, Bill McGlashan said;
"This is a great opportunity to partner with an important Africa-grown company to help them expand their business while building on their long track record and history of sustainability and environmental and social impact across the continent."
While Mike Stone, Chief Investment Officer of The Rise Fund said,
"This investment marks a major milestone in the relationship we have built with Wilderness Holdings. Keith and his leadership team ranks as one of the very strongest in Africa, and Wilderness Holdings has the potential to create significant environmental and economic impact on the continent."
In all the countries where it operates, Wilderness works closely with local community leaders and drives local economic growth by creating stable, well-paying jobs for members of those communities. The fund is managed by TPG Growth, a private investment firm with approximately US$13.5 billion in assets under management. The Wilderness investment is its second foray into Africa. The fund will be represented on the Wilderness Holdings board by Yemi Lalude and Jide Olanrewaju.
Source: Safarious.com, the Botswana Government Facebook page
Image credits: Bono by Web Summit, Richard Branson by Chatham House, Pierre Omidyar by JD Lasica, Mo Ibrahim by World Economic Forum from Cologny, Switzerland