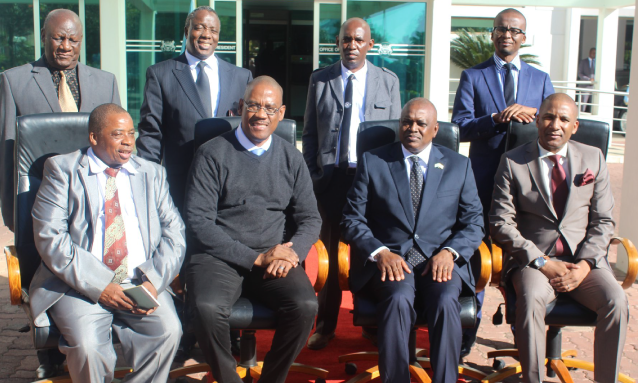 President Mokgweetsi Masisi this week met with leaders of the opposition leaders and apologised for anything his government and party may have done to their detriment.  Speaking during the historic meeting held at the Office of the President, he asked his counterparts for a chance to start on a clean slate.
"I want this generation to entrench mutual respect towards each other as players in the political landscape.
As we gravitate towards the election, we should ensure that Botswana is kept peaceful. I want us to all commit to peace, civility and fairness; not only verbalise it but also live it. We lead people and are opinion makers and can positively influence the society," Mr Masisi said.
The President said political parties play an important role in the democracy, peace and stability of Botswana hence the decision to resuscitate the All Party Conference. The conference stands to enable political stakeholders to engage on issues of national interest as well as to provide a platform through which to discuss means of improving the national democratic landscape.
"Government has decided to revive the All Party Conference in keeping with our traditions of consultative governance.
We shall discuss the modalities such as the frequency of the meetings and the ambience, that is, the venues most suitable and various issues to be addressed there," the President said.
He said the meeting was aimed at establishing the initial rapport ahead of a formally established All Party Conference.
"If we want to continue democratic conduct we need to work together.
Although we contest against each other and seek to win and maintain political office, we are the poorer without alternatives.We cherish the existence of opposition parties. Please share with us whatever inhibits your ability to properly function," President Masisi said.
For his part, Leader of the Opposition in Parliament (also President of both the UDC and BNF) Mr Duma Boko said;
"We thank you for commencing what should be a standing feature of our democracy; engagement. We will differ, we have to, but this has to be tempered by civility. Meetings of this nature could rescue politics from the perception of being an arena of mud and slander, an arena of self-interest."
BCP's Dumelang Saleshando also welcomed the new development but also stressed it's crucial that the All Party Conference guards against the past practice of not implementing important decisions taken.
"In terms of free and fair elections, Botswana should be further than neighbouring states; yet recommendations from the All Party Conference in the past, such as political party funding and other suggestions put forth by past election observers were not acted upon. I sincerely hope this time the conference will not be a talk shop," Saleshando said.
Leader of the AP, Ndaba Gaolathe praised Mr Masisi for reviving the consultative nature of governance, which he said used to be tradition but was eroded in recent times.
"I thank you and your government for bringing some form of normalisation after the consultative culture was stalled over the past decade. You genuinely deserve credit for bringing Botswana to where it should have been long ago in forging a culture of dialogue. We also urge you to work with us to empower the legislature to deliver on its mandate," Mr Gaolathe said.
Reference: BOPA
Featured image source: BWgovernment Facebook page