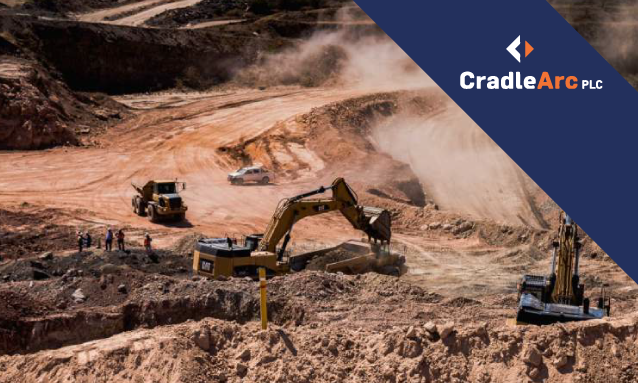 Aim listed copper and gold miner, Cradle Arc expects to produce at least 5 700 t of contained copper at its Mowana copper mine in Botswana, in the second half of this year. This follows the start of the ramp-up of mining activities at the mine in April, which is part of the company's accelerated mine development plan, and the securing of $10-million of debt funding.
Project level operational cash flow to break even is expected for June, with cash generation expected to improve throughout the second half of the year. Cradle Arc plans to bring the third and fourth mining units on line by the end of June and towards the end of September, respectively. The company mined about 1.1-million tonnes of ore and waste in the second quarter, with mining rates expected to double in the third quarter to reach a rate of three-million tonnes by the fourth quarter.
"Process recoveries of copper continue to be commensurate with the projected recoveries of the mined blocks concerned at an overall average of about 56% for the second quarter, which reflects that predominantly transitional ores were mined, with recoveries of up to 76% being achieved on the high supergene ores," Cradle Arc reported on Tuesday.
Process recoveries of copper are ultimately expected to reach an overall average of 85% as more sulphide dominant areas are accessed.
The company expects to produce 650 t of contained copper in the second quarter
"Although it is still relatively early in the ramp-up stage of operations under the company's revised mine plan, I am delighted that the key performance criteria set by the board are currently being met and backed up by actual operational data.

"This is an opportune time to be bringing on additional production to the copper market – positioning the company to take advantage of currently tight global supply conditions," said Cradle Arc CEO, Kevin van Wouw.
Meanwhile, Cradle Arc's Thakadu/Makala mining licence, also in Botswana, has been extended to March 2019. This enables further work to be conducted and a full submission to be made in respect of the company's development plan for Makala, potentially involving an underground satellite mine that is 70 km from the current Mowana site.
Source: miningweekly.com
Image source: proactiveinvestors.co.uk