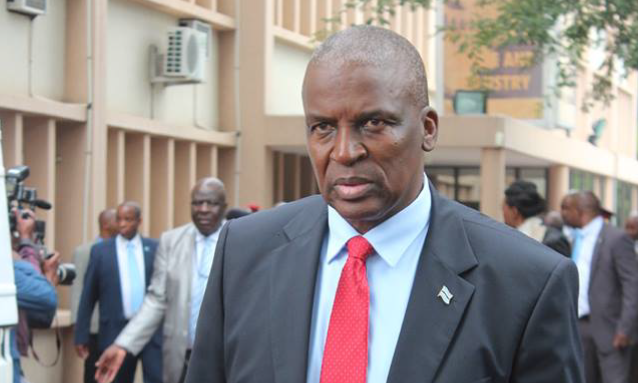 In what continues to be a catalogue of 'shock reveals' since President Mokgweetsi Masisi took over the reigns, this Tuesday he terminated the contract of the Director General of the Directorate of Intelligence and Security (DIS) Isaac Kgosi.
President Masisi wasted no time and moved swiftly to replace Kgosi, the man dubbed 'the most powerful man in Botswana,' with former Botswana Defence Force Chief of Staff and Commander of Ground Forces, Brigadier Peter Magosi. Ironically, former President Ian Khama forced Brigadier Magosi into early retirement two years ago.
A statement released by the Permanent Secretary to the President and Secretary to Cabinet, Carter Morupisi stated;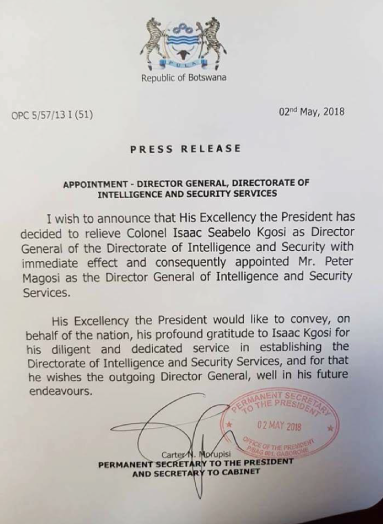 Flashback – Let's rewind back to 2016!
The sacking of Isaac Kgosi and the subsequent appointment of Magosi in his place is a classic case of the tables well and truly turning and roles being reversed. It will no doubt have played out in both Kgosi and Magosi's minds as a very weird case of déjà vu!
Let's cast our minds back to 2016 when then-President Lt Gen Ian Khama "forced Botswana Defence Force Chief of Staff and Commander of Ground Forces Brigadier Peter Magosi into early retirement". The Sunday Standard reported at the time that Magosi's unceremonious expulsion from the army was in the making two years ago prior to it actually happening but had to be put on hold when the plan 'bombed'. The plan was reportedly hatched by Magosi's nemesis, Isaac Kgosi, among others.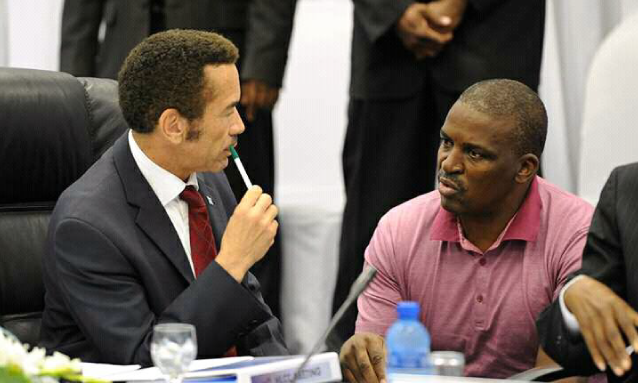 The article stated Brigadier Magosi's forced retirement stemmed from a long- running battle inside President Khama's inner circle, which included the DISS Director General Isaac Kgosi, Eric Molale (then Minister of Presidential Affairs), BDF Commander Lt Gen Galebotswe and Khama's twin brothers, Tshekedi and Anthony Khama. The paper gave an account of a very ugly, fantastically convoluted ugly mess of deceit, lies and animosity that gave rise to a long-running feud between Kgosi and Magosi.
The latter's appointment in Kgosi's place will almost certainly fuel the bitter vendetta that shows no sign of ending any time soon.
---
Disclaimer: The views and opinions expressed in this article are those of the authors and do not necessarily reflect the official position of YourBotswana.
---
Reference: MmegiOnline, http://www.sundaystandard.info/khama-fires-brigadier-magosi
Image sources: Botswana Guardian Newspaper, Gabzfm News, BW Government