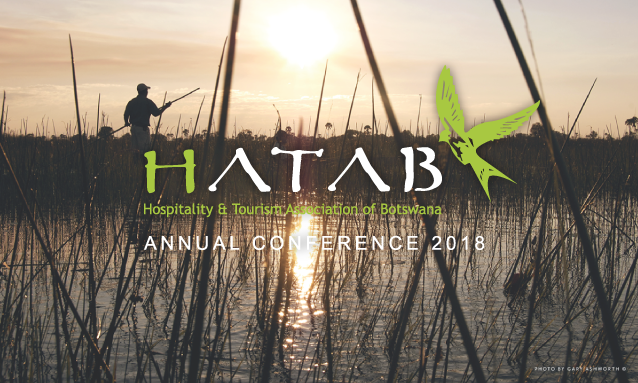 The Hospitality and Tourism Association of Botswana – HATAB this week hosted its Annual Conference on the 3rd-4th May 2018 in a bid to promote and sustain the private sector participation within the hospitality and tourism industry.
The conference, which took place at Maun Lodge, was held under the theme, "Communications, Information and Education: Power lines of Tourism Development," in line with HATAB's vision of promoting and encouraging excellence in tourism and hospitality.
The HATAB Annual Conference is a stakeholder engagement platform through which HATAB Members, policymakers, business leaders, academia and other key stakeholders are given the opportunity to reflect on opportunities, challenges and prospects within the hospitality and tourism industry. This is with a view to providing the required solutions to promote an enabling environment for the development and growth of the tourism sector.
This year, the conference sought to focus on leveraging R&D, innovation and technology in mitigating inherent challenges within the tourism industry, based on domestic and global best practices. Discussions centred around the ease of doing business within the hospitality sector, the future of the tourism industry in relation to policies and legislation, guidelines on cross-border tourism activities, the impact of skills development on tourism industry, the importance of research and development as well as innovation on the tourism sector as well access to funding tourism businesses.
Established in 1982, HATAB is a voluntary membership organisation, which promotes, encourages and monitors excellence in hospitality and tourism in Botswana.
The Association has nine (9) sectors namely camps and lodges sector, mobile sector, hotel sector, self-catering sector, conservation and wildlife management sector, services sector, tour operators sector, air charter sector and airline sector.
In this respect, HATAB ensures that all visitors within and beyond Botswana enjoy consistent, high standard service from the entire hospitality and tourism industry.
---
YourBotswana wouldn't ordinarily cover an event such as this one. However, it would appear there were a few interesting little nuggets raised at the conference worth mulling over. These we feel, raised concerns around Botswana tourism that will resonate with many Batswana as they have with us.
"A lot of our data is stored outside the country. We will soon launch a data centre at the Icon Building. We have forged partnerships with renowned tech companies to facilitate local tech ventures that will service the tourism industry. This will among others reduce revenue leakages…and enable the industry to thrive," BIH CEO Allen Moshwaen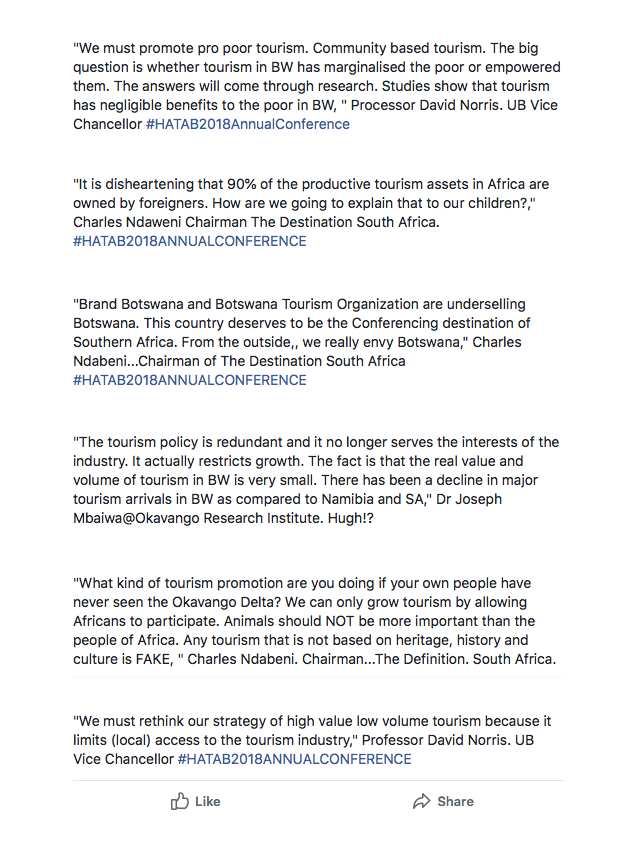 ---
YourBotswana View…
While the rationale behind Botswana's high value, low impact tourismstance is noble; it inevitably leaves the locals out in the cold, given the eye-popping cost of a safari break in Botswana. The government adopted this stance to guard against destroying the environment as well as Botswana's flora and fauna and that is highly commendable. However, the position has become a double-edged sword in that Botswana's tourism has become an extremely niche product reserved ONLY for the stinking rich western visitor, effectively meaning a Botswana safari trip remains a distant dream for the average Motswana.
Ironically, most of the coveted luxury safari camps are owned by South African operators, who have well and truly embraced the high value, low impact concept, not only charging extortionate fees but also in foreign currency. It is truly tragic that the majority of Batswana have no hope of ever enjoying a safari break in their country because they simply can't afford it.
I'll never forget the pain I felt when I learnt that some of the artists who designed the iconic ivory elephant sculpture at Sir Seretse Khama International Airport had never seen an elephant and relied solely on pictures for reference! Or when Brand Botswana posed the question, "why do Batswana not appreciate Botswana tourism as much as the tourists?"
Batswana often cross the border to neighbouring South Africa for their holidays, which is considered considerably cheaper than Botswana. I mean, how sad it that? There used to be a time when there were local rates that enabled Batswana and residents of Botswana to see the beauty of Botswana, I think that has all but disappeared over the years. I personally think that is not only sad but also, that the government is missing a trick here. Batswana and Botswana residents being able to afford and enjoy holidays to Botswana's countless beauty spots could be one of the country's best marketing tools. Not only would it enhance a real appreciation of their country, but they would also be able to 'sell' the country from a very honest place and the same goes for the expatriates, who in turn would tell their friends and families about the amazing beauty of Botswana.
Keeping numbers to a minimum at the exclusion of everything else to me sounds so lame and blinkered! Being from Maun and having previously worked in the safari industry, I can assure the government that managing tourist numbers does not necessarily have to mean shutting out the locals. It would be fairly easy to offer local rates during low season when tourist numbers are very low, thus killing more than 2 birds with one stone, so to speak; enabling the locals to see the beauty of their own country, enhancing local appreciation of Botswana's stunning beauty that they currently admire from the sidelines, still make some money albeit not as much as you would in the peak season etc
Botswana is a country that makes laws and never seems willing to revisit them over the years, and that can be detrimental to the country's development in an ever changing, heck, a fast-changing world in the 21stcentury. Botswana fears change but I think it's time to seriously reconsider the high value, low impact idea – not to do away with it but rather to fine tune it to be a bit more accommodating of a wider audience. Then and only then can we begin to really reap limitless rewards from Botswana's tourism offer, including effectively diversifying Botswana's income streams.
Reference: HATAB Facebook page