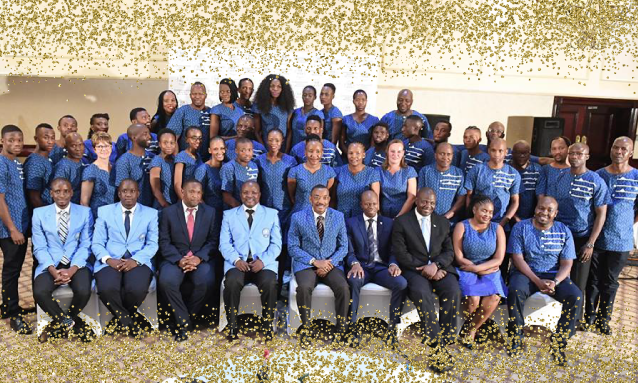 Team Botswana landed back on home soil this Wednesday from the Gold Coast, Australia, where they made Botswana proud by snagging an impressive clutch of medals. Back home in Botswana, the mood was sizzling with excitement and pride and fittingly, the team touched down to a rousing welcome.
Team Botswana lands back on home soil to a rousing welcome
Vice President, Slumber Tsogwane and Botswana's cabinet ministers set aside their duties to be part of the welcoming party at the Sir Seretse Khama International Airport. Speaking from the airport, Tsogwane said the team had made Botswana proud at the Commonwealth Games, describing their performance as historic.He said the team's achievement would remain in Batswana's hearts for many years to come.
"Isaac Makwala, you will be history, even after you have left this world, it will be known that there was an athlete called Makwala. To the team, we are very happy with what you have done for this country," he said.
While the Botswana National Olympic Committee (BNOC) and Botswana National Sports Commission had set their hearts on a target of eight medals, Team Botswana won five. Out of the five, Amantle Montsho, Isaac Makwala and the 4×400 m men's relay team secured a gold medal apiece. Baboloki Thebe and the 4×400 m women's relay team brought in the silver and bronze medals respectively. Not quite the 8 medals they'd hoped for but by no means no mean feat! Once again, way to Team Botswana! We are all very proud of you, keep them coming!
For a country that boasts no state of the art sporting facilities, paired with the fact that we are not inundated with multi-million dollar sponsorship offers, Botswana has not done too shabbily at the just ended Commonwealth Games. Ranked 16th overall in the medal standing at the Commonwealth Games behind seasoned high performers such as Australia, England and Kenya among others, Botswana has undoubtedly proved it is far from being a slouch in track events.
Cash incentives for Botswana's sporting heroes
Still only a 'novice' in international sporting competitions, Botswana's star continues to shine ever so brightly as the country's athletes' grow in resilience and brilliance when pitted against some of the world's best competitors! Perhaps finally heeding the nation's continued rants about the severe lack of support for local sports, the government appears to have pulled out its finger and reportedly put in place incentives for the athletes in recognition of their heroics at the Gold Coast Commonwealth Games.
---
Speaking at a welcome dinner held for Team Botswana this week, Vice President Slumber Tsogwane announced that the government would award the athletes as follows:
– Gold medal – 100,000 Pula
– Silver medal – 75,000 Pula
– Bronze medal – 50,000 Pula
– All others – 5,000 Pula each
* The total incentive package for the Commonwealth participants was set at over 1.3 Million Pula.
---
The Vice President said it was fitting for the government to reward the team as they demonstrated growth and excellence against the world's best athletes. Furthermore, he said the team had shown exceptional commitment and put in a solid performance to emerge victorious.
Tsogwane highlighted that the athletes, through their stunning performance, had shone the spotlight on Botswana, impacting positively on the country's relations with other countries, including Commonwealth member states. This, he said, sets a challenge for the government to work harder to ensure continuous improvement so as to maintain and/or exceed the current results.
"As a team, you have given all stakeholders reason to come forth and support sport more than ever before because you have shown the great potential of sport as an avenue for the diversification of economic activity," he said.
He said it was time for the government and business community to collaborate with much more intent to enhance investment in sport. He emphasised the importance of developing athletes from the grassroots.
It also emerged at the event that the government plans to build community sports fields in 10 constituencies to the tune of P50 million (a very meagre figure in my humble opinion, considering it's wouldn't be enough for just 1. BUT I guess you do have to start somewhere). The government is also setting up an athletics secretariat in the next three months.
Reference: BOPA
Image source: Botswana National Olympic Committee FB