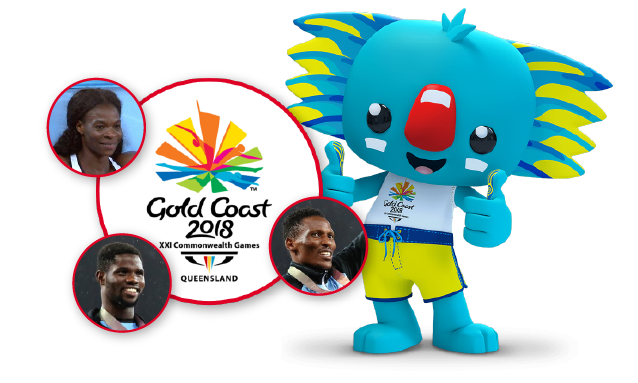 Botswana this weekmade history, as it became the only country in the history of Commonwealth Games to win gold in both the men's and women's 400m race in the same games. There was no stopping Team Botswana as they delivered on their promise to go 'digging for gold' at the Commonwealth Games!
Makwala and Montsho go for gold
Botswana toasted the 400m double on Wednesday night as Amantle Montsho regained the title she won at the 2010 Delhi Games. Just 24 four hours after her compatriot Isaac Makwala cruised to victory in the men's 400m, Montsho, the 2011 world champion, produced her quickest time for five years to register 50.15 and prove she is back to her best. The mark was 0.05 shy of her Games record.
"The race was good and I'm happy I won," Montsho said. "I wanted to break the Commonwealth Games record (50.10). I nearly broke it, so I'm happy with my time."
---
It is the first time in Commonwealth Games history the 400m men's and women's events have been won by athletes from the same country.
---
The win saw Amantle Montsho redeem her pride by claiming back the Commonwealth Games title she won back in 2010. Montsho won Botswana's first ever Commonwealth 400m gold medal in Delhi 2010 Commonwealth Games Commonwealth Games in a new Games record time of 50.10 seconds, in the process smashing Jamaica's Alexandre Richard's.
As Batswana hoped that she would defend her title at the Glasgow 2014 Commonwealth Games, it was not to be as she finished in position four in the finals with a time of 51.10 and as if that was not enough, Montsho was handed a two-year doping ban after testing positive for methylhexaneamine.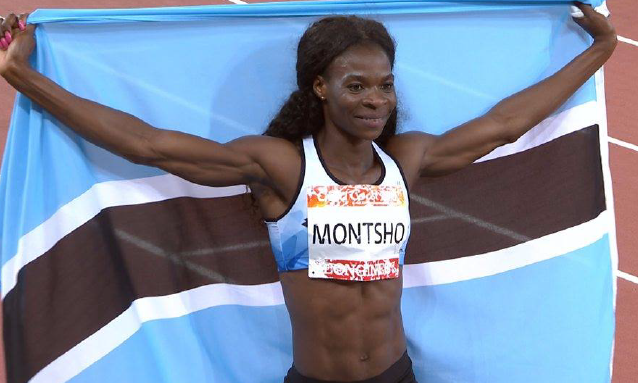 She came back strong in the 2018 Commonwealth edition, probably knowing this was where she could pick up the pieces, and before departing for Australia, she told BOPA that her mission was to fight and make her opponents feel her presence.
"However, I am not going to put myself under any pressure. I just want to enjoy my race. But of course with a brave fight and the rest will follow, but I'd be happy to win a medal; any colour for my country," she had said during the interview.
Montsho approached the Gold Coast Commonwealth Games with a positive attitude on Monday in round 1 heat two, finishing in position one with 51.20 to proceed to the semi-finals where she finished in position two with a time of 51.26.
It therefore, did not come as a surprise when she put on a world-class performance, outshining her two fierce Jamaican competitors; Anastasia Le-Roy who won silver with a PB of 50.57 and her long-time competitor, Stephenie McPherson who finished in position three with 50.93.
The Team Botswana lads did it too!
Not to be outshone, the boys did their bit to put Botswana on the map too. Isaac Makwala also hit gold when he stormed to victory in the men's 400m final on Tuesday. Makwala, the pre-race favourite, won the gold medal in a time of 44.55 seconds, with fellow countryman Baboloki Thebe second in a time of 45.09sec. Javon Francis, of Jamaica, was third with a time of 45.11sec. Makwala's race was all but won with 50m still to go.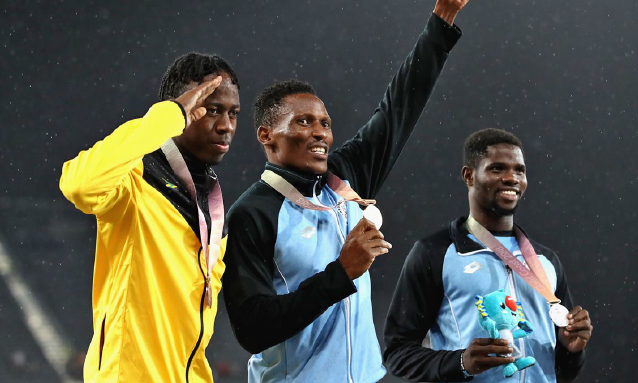 "I came here ready for the gold medal. I was training hard for this and you can see from my heat and the final I was just relaxing. "I knew that if I reached 300 metres first, those guys couldn't manage me."

The gold medalist celebrated with 10 push-ups, his signature victory move and said of the trademark push-ups; "I just want to show that Makwala is still there, that I still have the power to go." When asked if he would attempt both the 200m and 400m at next year's world championships in Qatar, he added; "If my fitness level is good I will go for the double."
And the gold just kept coming
Clearly buoyed by his win earlier in the week, Makwala on Saturday led Botswana's 4x400m relay team to more gold victory. Team Botswana celebrated their win by dropping down to perform the infamous Makwala push-ups, a celebration the Australian media termed "the most bizarrely passionate way". I think that was a bizarre description!
On that note, I think we'll go with the BBC's, "A masterful performance, an iconic celebration. Hats off all round to Botswana…"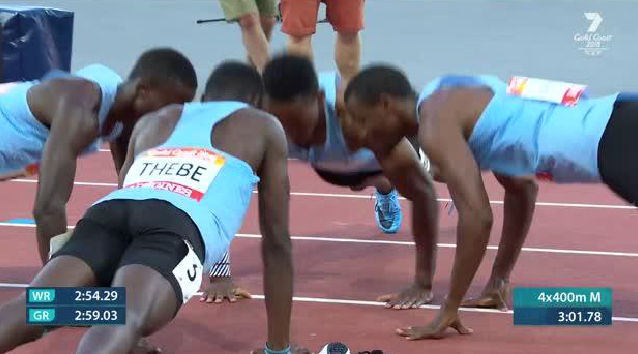 Going viral on BBC & elsewhere: Four of your best – Botswana relay team in novel celebration, Leaname Maotoanong, Baboloki Thebe, Onkabetse Nkobolo and Isaac Makwala took victory in the last track event of the competition. Before the last runners from Fiji and the Turks and Caicos Islands had even finished the race, the Botswana four had dropped to the ground and given each other five push-ups! Whether it was planned or even rehearsed is not clear, but Makwala's reaction to holding out the Bahamas and Jamaica said it all. They simply had to win.
The girls put in a solid effort to bring home bronze
4x400m Relay Women – Galefele Moroko, Christine Botlogetswe, Loungo Mathaku and Amantle Montsho – with a national record of 03:26:86, the team got bronze.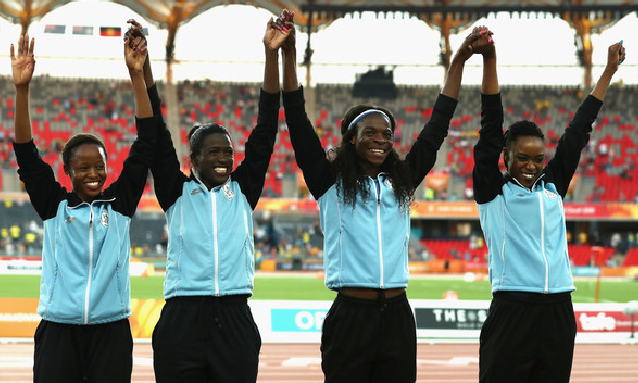 Photo by Christine Botlogetswe – Zimbio
---
Team Botswana will arrive on Wednesday, landing at Sir Seretse Khama International Airport at 0900 hours. In celebration of Team Botswana's amazing performance and achievement at the games, Minister Thapelo Olopeng is to meet them at the airport. A motorcade is also planned to start from the airport and make its way through Gaborone, ending at Mma Masire Grounds at G'west.
All we can say is well done Team Botswana and a massive thank you for putting Botswana on the map! You did astoundingly well and made every single one of us exceedingly proud to be Motswana. Way to go!!
---
Sources: gc2018.com, BOPA, kwese.espn.com, au.sports.yahoo.com, bbc.com