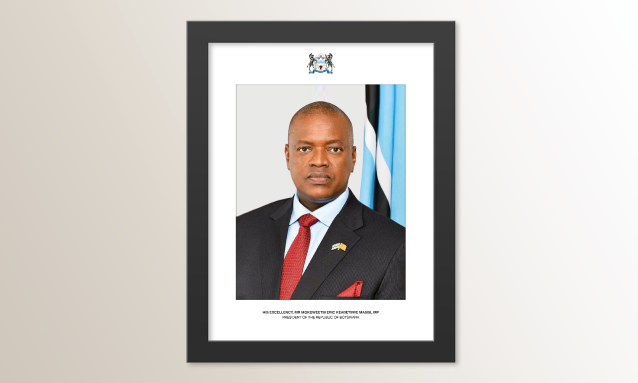 On the 1st of April 2018, His Excellency Mokgweetsi Eric Keabetswe Masisi was sworn in as the 5th President of the Republic of Botswana. Prior to this, he was Botswana's 8th Vice President, having also served in various Cabinet portfolios. Before becoming a full-time politician, he had established himself as an educationist.
Born in Moshupa on July 21 July 1962, the fifth son of the late Edison Setlhomo Masisi, he grew up in a large household alongside seven siblings. For decades, his father served as a Cabinet Minister and Member of Parliament for Moshupa (1965-99).
After attending school at Thornhill and Maru-a-Pula, President Masisi went on to complete his teacher training studies at the University of Botswana, where he majored in English and History.
From 1984, he taught at Mmanaana Secondary School in Moshupa, where he was also active in community development initiatives through the Village Extension Team. He was involved in sports, fundraising for development and the PTA.
In 1987, he became Social Studies Curriculum Specialist at the Department of Curriculum Development and Evaluation, where he was responsible for supervising Social Studies, Music and Religious and Moral Education.
In 1989, he studied at graduate level at Florida State University, USA, specialising in Social Studies Education and Instructional Systems Design. He attained his MSc from FSU in 1990.
In 1990, he re-joined Curriculum Development as the National Coordinator for Social Studies Education and Botswana's representative for the African Social and Environmental Studies Programme, also serving as a Board member for Environmental Education Association of Southern Africa. During this time, he played a leading role in the development of a new assessment system of Criterion-Referenced Testing.
---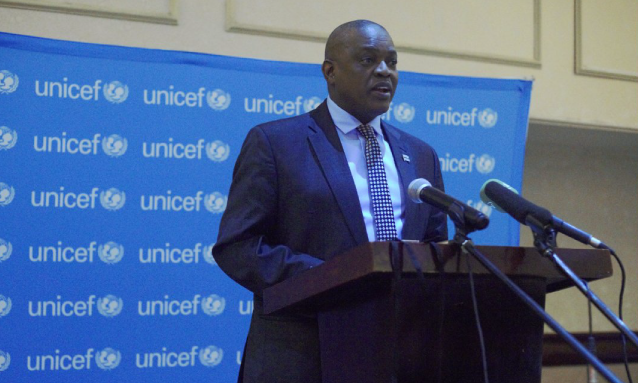 President Masisi has also been an active member of several NGO Boards, including Kalahari Conservation Society and Bana Ba Metsi Trust. In 1995, Masisi joined UNICEF as Education Project Officer, where he was responsible for initiating policy and program reforms for Botswana's excluded. That included developing and implementing education programmes for children of Remote Area Dwellers, focusing on access, retention and improved performance as well pregnant students Continuing Education (Diphalana Programme). He was part of a team of experts contributing to the development of education in Eastern and Southern Africa for UNICEF.
---
In 1999, he was awarded a Commonwealth Chevening Scholarship to undertake graduate studies in Economics and Social Policy at Manchester University in the UK.
In 2003, he resigned from UNICEF to join politics, contesting unsuccessfully for the Botswana Democratic Party (BDP) primaries in the Moshupa Constituency. Undeterred, he remained active in politics and was later elected Deputy Secretary of the Moshupa Branch Committee.
In 2004, Masisi joined an International Research NGO (CIET) and focused on HIV Prevention research.
In 2008, Masisi's perseverance paid off when he won the BDP Primary Elections and became the party's Parliamentary candidate for Moshupa and subsequently secured it in the October 2009 general elections.
In October 2009, his political career was given a boost when he was appointed Assistant Minister for Presidential Affairs and Public Administration at the State Presidency. He was then appointed Minister for Presidential Affairs and Public Administration in January 2011, a role that saw him oversee the Poverty Eradication Programme and the expansion of BTV and Radio Botswana's broadcasting capacity.
He also conceptualised and started the Moshupa Constituency Development Show as well as the rollout and free distribution of seedlings to the whole Constituency and other community initiatives to improve peoples' lives.
2014 proved to be a very busy and fruitful year for Masisi as his 'political star' continued to soar! In April 2014, he was appointed Acting Minister at the Ministry of Education and Skills Development. That very October, he was re-elected the Member of Parliament for the Moshupa-Manyana Constituency and shortly after, appointed the Minister of Education and Skills Development on October 28th, 2014.
On November 12th, 2014, Masisi was endorsed as the 8th Vice President of the Republic of Botswana. H.E. Masisi is married to Neo Jane Masisi (nee Maswabi) with whom he has one daughter.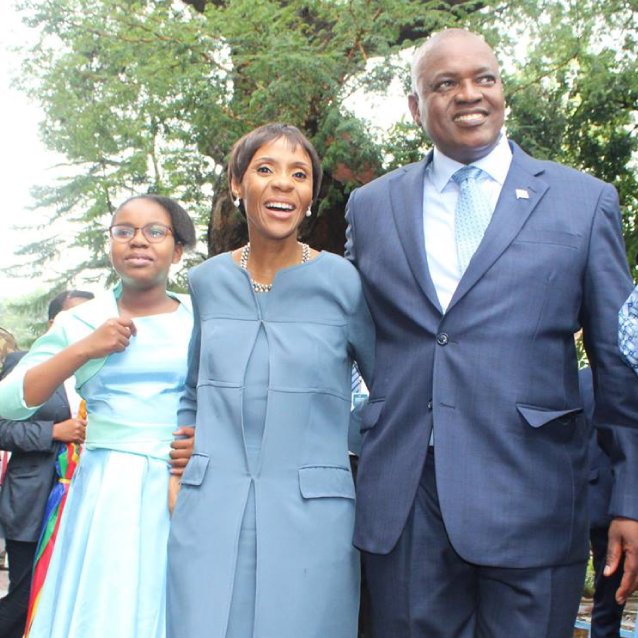 Reference: Botswana Government Facebook page
Images sources – BW Government Facebook page & UNICEF Botswana (Twitter)