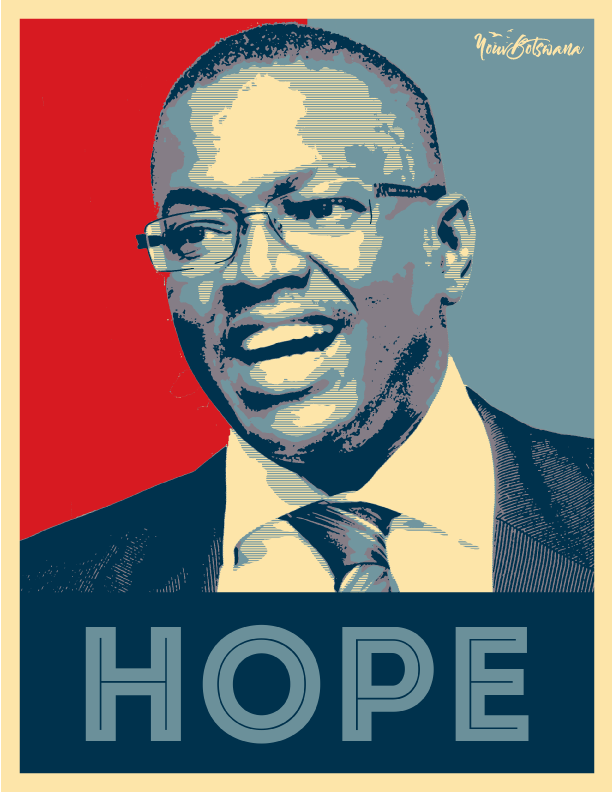 Earlier today Botswana's 5th president, Mokgweetsi Masisi was officially inaugurated to take the reigns from outgoing President, His Excellency Former President Lt. General Dr Seretse Khama Ian Khama.
Many Batswana at home will have got used to the idea of the event taking place on April 1, but some waking up around the world or anyone who has not been following Botswana news would certainly be forgiven for thinking someone was playing an April fool's day joke on them! BUT the inauguration took place early this morning from 6 o'clock at the Parliament Square. A heavy downpour, which started about an hour before the event, forced the proceedings inside the Parliament building. Some Batswana, being the superstitious nation that we are, will see this as a sign that all's well in Botswana, 55-year-old Masisi's presidency has been given a firm seal of approval from the man upstairs and is highly likely to steer Botswana in the right direction!
His Excellency President Masisi took the oath of office in the presence of the Chief Justice, the Speaker of Parliament and his immediate predecessor, Seretse Khama Ian Khama. The official oath was administered by Chief Justice Maruping Dibotelo. President Masisi went on to deliver his inaugural speech before inspecting a guard of honour mounted by the Botswana Defence Force. Masisi takes over a nation widely reputed across the world as one of Africa's beacons of democracy. The diamond-rich nation is also seen as one with sound economic management despite a seeming over dependency on the natural resource.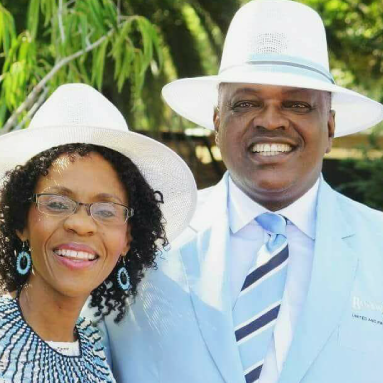 Botswana law caps presidential tenures to two five-year terms, it allows the vice president to automatically fill the post should it become vacant. Khama came to power through a similar arrangement where he took over from the country's third president Festus Mogae in 2008 before polls in 2009. The National Assembly will elect a new president after elections scheduled for October 2019.
In his inaugural address, President Masisi touched on the challenges and prospects the country faces as he takes charge, saying;
"As you all know, Botswana faces a myriad of challenges such as unemployment, poverty, crime, HIV and AIDS, alcohol and drug abuse, amongst others."

"Therefore, one of my top priorities as the President of this country will be to address the problem of unemployment especially amongst the young people who constitute the majority of our population. The young people, who make 60% of the population of this country, are the future leaders and therefore investing in them is building the bridge to the future.

"The realisation of the demographic dividend is of paramount and strategic importance since the success of our youth is the only guarantee of the long-term economic prospects of Botswana. It is imperative, therefore, for the Government to redouble its effort to optimise the participation of our youthful population in the economy of this country," he stressed.
---
We still seek to build a Botswana in which sustained development is underpinned by economic diversification. We shall not be satisfied until we have eradicated poverty and social exclusion in order to build a society that provides opportunity and dignity for all.
We are committed to a modern Botswana, that is not only open but able to openly compete with the rest of the world while maintaining our founding principles that have united this nation through difficult times: Democracy, Self-Reliance, Development, Unity and Botho still define us as a nation today.
---
President Masisi said that his government would prioritise the implementation of a combination of strategies required to stimulate accelerated economic growth, which he stressed would be implemented as a matter of urgency.
These strategies include but are not limited to:
– Scaling up access to technical and vocational education and training opportunities, in order to avail the requisite skills for the labour market;
– Promoting digitisation across both the public and private sectors, so as to ensure the availability of real-time information in order to expedite decision-making and service delivery, as well as to grow the domestic ICT sector and create jobs, particularly for the youth;
– Devising smarter ways of tackling our poor education attainment at every level and further, ensuring we realise an improved return on investment in the education sector in order to be competitive;
– Continuing with measures to ensure the Ease of Doing Business, for foreign and domestic investors alike;
– The Economic Diversification Drive, an important strategy aimed at giving Batswana an opportunity to set up industries to empower themselves and, in turn, to create the much-needed employment;
– Intensifying efforts to revitalise the SPEDU region economy to effectively respond to the closure and liquidation of BCL;
– Investing in infrastructural development projects across various sectors including information and communications technology (ICT), water, energy, transport and road networks, to create an enabling environment for commerce and industry, as well as to stimulate the economy.
– Accelerating the function of spatial planning and access to land in line with the National Spatial Plan 2036 in order to give meaning to the aspirations of Batswana, especially the youth.
We remain committed to fighting corruption, in order to safeguard the hopes and dreams of all Batswana for current and future generations. Therefore, it is incumbent upon us to continue to strengthen our oversight institutions and exact the full might of the law to ensure the fight against corruption in all its forms and manifestations is won.
---
YourBotswana would like to take this opportunity to bid farewell outgoing president, Ian Khama as well as to congratulate President Mokgweetsi Masisi. These are indeed exciting times for Botswana as we observe what our new leader has to offer Batswana in the next eighteen months before the next elections. President Masisi has the mammoth task of making tangible changes for the better within a very small window. A mean feat, probably insurmountable. But even still, I think while some people are sad to see Khama go, others are keen to see what Masisi has up his sleeve. We will certainly be observing and bringing you all the new developments as and when they happen.
High on Masisi's immediate agenda is the task of appointing his Vice President and a reshuffle of the cabinet, both of which have many Batswana on tenterhooks! This is set to take place on Wednesday.
---
Reference: africanews.com, Botswana Government Facebook page
Image source of President Masisi and the First Lady – BWgovernment Facebook page