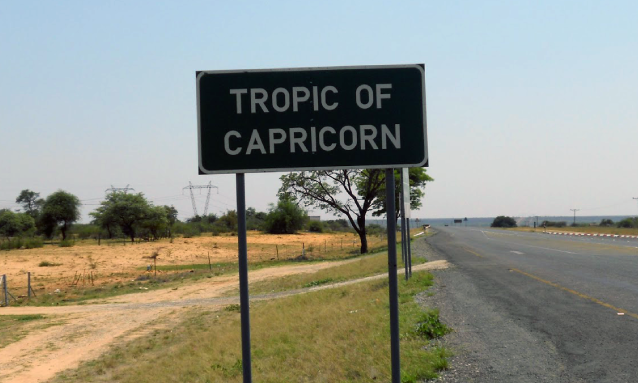 The Ministry of Environment, Natural Resources Conservation and Tourism through the Department of National Museum and Monuments will on Tuesday host a ceremony to be presided over by President Ian Khama to unveil Columnar Joints at the Tropic of Capricorn.
The Tropic of Capricorn – or the Southern Tropic – is the circle of latitude that contains the subsolar point on the December or southern solstice. It is, therefore, the southernmost latitude where the Sun can be directly overhead. Its northern equivalent is the Tropic of Cancer.
The Tropic of Capricorn, along with the Tropic of Cancer and the Equator, are believed to cut across Planet Earth, with the Equator being the longest line of latitude. The three are based on the position of the Sun in relation to the movement of the planet Earth during the two Solstices, that is, the months of June and December.
The Tropic of Capricorn is 23` 26` and 22` south of and also parallel to the equator and runs through Botswana, South Africa, Mozambique, Madagascar, Australia, French Polynesia, New Caledonia, Fiji, Tonga, Cook Islands, Chile, Argentina, Paraguay, Brazil and Namibia. It is believed that the sun is directly overhead the Tropic of Capricorn on 21st December each year.
Columnar Joints, a rare natural or geological formation of regular polygonal prisms or columns which form when volcanic rocks cool or contract, have been installed at the site as a landmark. The columns usually vary from 3 metres to a few centimetres in diameter and can go up to 30 metres tall.
Meantime, President Khama is also set to preside over the unveiling of the Elephant Sculpture to be displayed at the newly opened and revamped state of the art Kasane Airport on Wednesday. Both events are scheduled to take place at 1130 hours on the respective days.
Reference: BWgovernment Facebook page
Photo by Rosy Kaur