A groundbreaking ceremony for the much-anticipated Kgale Lake City project, which the developers are describing as "an ultra-modern mixed-use urban development concept" was held recently. But without much written about it, we held back bringing it to YourBotswana readers. In the end, we just had to run with it, as there's since been nothing much to go off. The excitement got the better of us and this is what we could cobble together!
The Kgale Lake City project is conveniently situated on the outskirt of Gaborone – along the Gaborone – Lobatse highway and within ten minutes' drive from the city centre. This means that residents will be able to easily commute to Gaborone, providing the traffic along that route doesn't explode as it has across much of Gaborone. Kgale Lake City is in the picturesque Kgale hill area, overlooking Gaborone dam. The website says it'll be a mixed-use commercial and quality, affordable, dream home residential development.
Kgale Lake City precinct – an integrated new urban living space – with upscale high-end exclusive homes, apartments and penthouses, retail offices, 4-5 luxury hotels, conference and convention Centres, schools, parks, fine dining, sporting facilities, tourism-related facilities, entertainment and many more.
A partnership involving Arcswana Architects and the Roman Catholic Church, Kgale Lake City will feature 1,800 housing units, among them luxury residential homes, including mansions, modern commercial properties and luxury hotels. Sure to be a hit among the increasingly environmentally conscious, the developers will use the latest eco-designs to bring the project to fruition. An artificial lake will also be developed behind Kgale Hill, from which the project gets its name.
---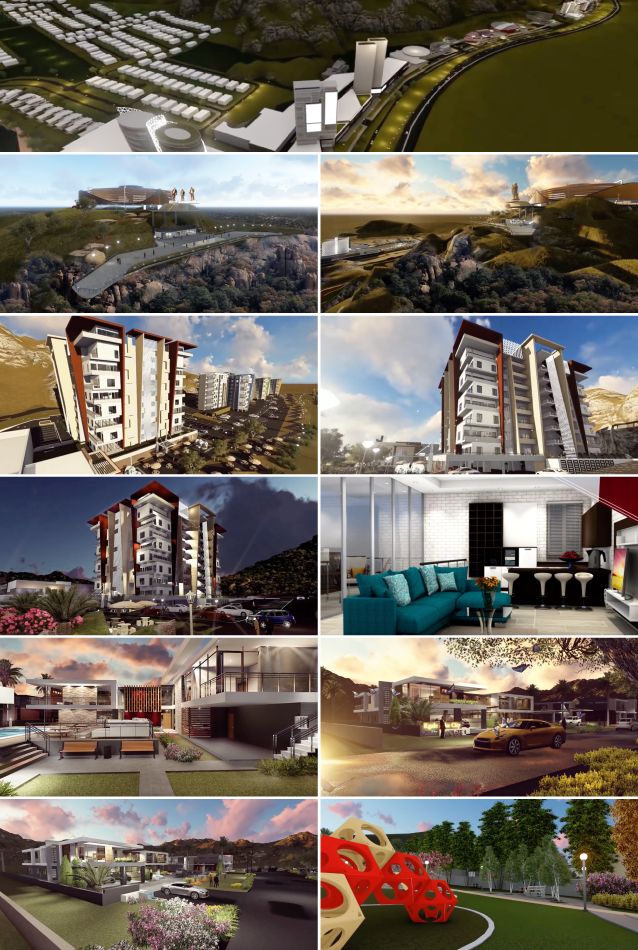 If it all comes together as planned, Kgale Lake City promises to be a very exciting prospect! The artist's impression of the project paints a truly stunning picture with equally breathtaking views, an idyllic way of living, a dream neighbourhood the likes of which we have yet to see in Botswana. We can only hope that the end product doesn't disappoint and closely matches what's in the video; that the project comes to fruition in my lifetime. Most importantly, it'd be great if the average hard-working Motswana can afford to enjoy a slice of the dream. Ahem… I for one would be very happy to see what Kgale Lake City has to offer!
Reference: kgalelakecity.com