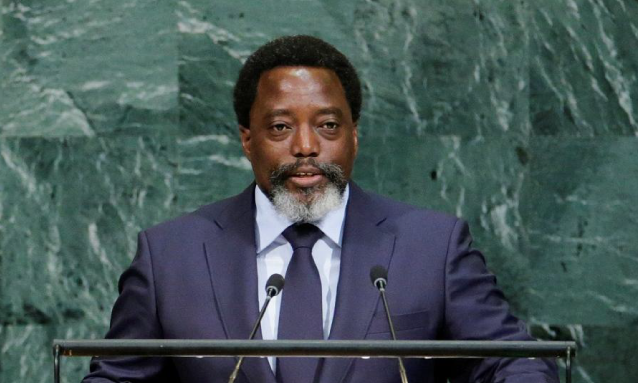 Botswana is well known for not being shy in coming forward with its opinions about various world issues. This has drawn criticism from around the continent, but Botswana remains resolute and unabashed in issuing these little nuggets of wisdom, whether appreciated or not.
The latest country to find itself in Botswana's firing line is the Democratic Republic of the Congo, or to be more accurate, its President, Joseph Kabila. The Government of the Republic of Botswana this week expressed its concern over what it termed "the disturbing trend, whereby some political leaders refuse to relinquish power when their term of Office expires".
The government said in a press release that such leaders have now resorted to measures such as delaying elections or amending their national constitutions to effectively extend their term of Office.
It is clear that such leaders are driven by self-interest, instead of those of the people they govern, the release continued; citing the Democratic Republic of Congo as a case in point.
Through the statement, the government asserted that it continues to witness a worsening humanitarian situation in the Democratic Republic of Congo, mainly because its leader has persistently elections, and has lost control over the security of his country. It further said Botswana therefore, urges the international community to put more pressure on the leadership in the Democratic Republic of Congo to relinquish power and pave the way for the ushering in of a new political dispensation.
Kabila hits back at Khama 
"Botswana is talking nonsense"
"Botswana trying to please western friends"
"Warns Botswana not to interfere in their internal affairs
Not best pleased by Botswana's rebuke, the Democratic Republic of Congo reacted angrily to Botswana's claim that President Joseph Kabila's decision to remain in power is stoking instability in the vast central African nation.
Congo's Communications Minister dismissed as "nonsense" Monday's comments from Botswana, which represented the most strident criticism yet of Kabila by an African government. It comes as militia violence continues to flare up in Congo's restive east, exacerbating countrywide insecurity that's forced 5 million people from their homes.
Botswana shouldn't interfere in Congo's internal affairs, Lambert Mende said by phone from the capital, Kinshasa, accusing its government of "trying to please some powerful friends." The European Union, U.S. and Switzerland have imposed travel bans and asset freezes on Kabila allies including Mende for alleged rights abuses and blocking the electoral process. Kabila, who's ruled since 2001, was due to step down at the end of his second term in December 2016 after the election of a successor.
The vote was postponed and Kabila has remained in office, sparking regular protests in which dozens of people have been killed by security forces. Kabila's perceived illegitimacy has also become a rallying cry for some eastern militias, while a conflict in the central Kasai region has claimed thousands of lives since August 2016.
Presidential and parliamentary polls are scheduled for December, with opposition parties split on whether to support the timetable. Kabila is barred from running again, but opponents accuse him of planning to alter the constitution to renew his mandate.
The electoral commission will ask political parties to nominate their presidential candidates later this year, Mende said. "This is when the world will know whether Kabila is standing or not."
---
YourBotswana View
Say what you like about Botswana but what the country refuses to do is sit quietly in a corner and not say or do anything in the face of evil for fear of losing friends. Regardless of it being a 'tiny, obscure' country that many have probably never even heard of, it has to be commended for its convictions. Botswana is a peaceful, peace-loving country but is also very spunky and is not scared to rock the boat by pulling leaders up on their various 'misdemeanours'. That takes courage and chutzpah and that's to be commended. In my opinion, "To sin by silence, when they should protest, makes cowards of men."
---
Source: Botswana Government Facebook page, Bloomberg