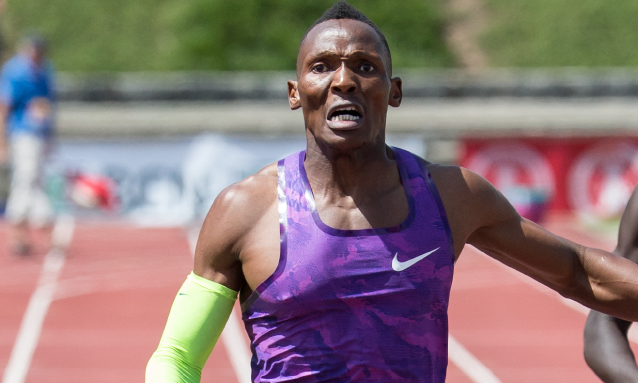 Botswana's 400m runner, Isaac Makwala will open his season at the Athletix Grand Prix Series on March 1 at Ruimsig Stadium, Johannesburg. The Athletix Grand Prix, organised by Athletics South Africa (ASA), has attracted international athletes, amongst them America's 2014, 200m World junior champion, Trentavis Friday, world 200m bronze medalist, Anaso Jobodwana and World junior 300m record holder, Clarence Munyai.
Makwala, who made headlines last season when the IAAF barred him from competing in the 200m heat and missed the 400m finals as a result, is being touted as the athlete to watch during the Athletix Grand Prix Series. Makwala said in an interview that his preparations for the meet have been going well. He said that the organisers had requested him to compete in the 200 and 400m and that he was assured that there would be enough time between events for the athletes to recover.
The 400m Diamond League champion said he was not under pressure to clock impressive times given that it would be his first race of the season.
"Look; I am going there to compete, if I clock a good time it would be a bonus. But if you have been following my performance, you'll know that I do well around June and May; so for me, this competition is not all about chasing time, but I will give it my best shot," he said.
Other Botswana athletes who will participate at the Athletix Grand Prix are Amantle Montsho, Goitseone Seleka, Loungo Matlhaku, Karabo Sibanda, Christine Botlogetswe and Karabo Mothibi. National team coach, Justice Dipeba said Montsho, Seleka and Botlogetswe would run 400m, while Matlhaku would compete in the 100m. The event will form part of the team's preparations to gauge their readiness for the Commonwealth Games. Dipeba said they expect to see the athletes recording better times in the run up to the Commonwealth Games.
For his part, Athletics Analyst, Billy Tambula said with only a month left before the Commonwealth Games, it's important to have preparatory meetings. He said the Botswana Athletics Association (BAA) super night series are important events to lead with as some athletes often use it as an opportunity to improve their times.
"But we have one or two athletes who really dominate and need to now compete in international meetings like the Grand Prix. I believe it's the right time for our athletes to start competing with other top athletes from different countries."
Reference: BOPA
Photo By A03575secs