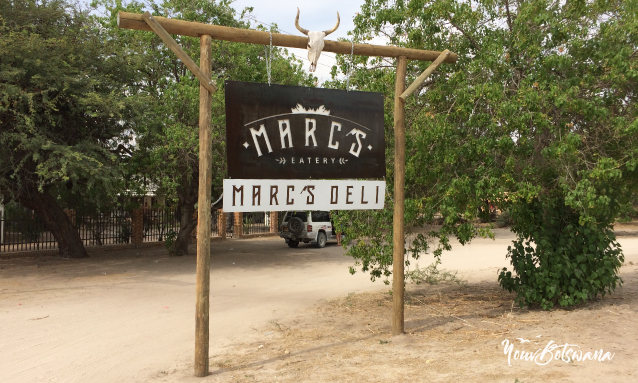 Location – From Spar at the New mall, as if you're heading towards The Village Church (Life Centre) on the Sir Seretse Khama Rd, Main Road Sedia – Maun, @Nunga Centre
The last time I was in Maun, I had the privilege and honour of stumbling across what I genuinely feel is arguably the best restaurant in Botswana! I was so blown away by Marc's Eatery; I honestly believe it's good enough to rival any restaurant anywhere in the world. We stumbled across the restaurant quite by accident, on our way to the Life Centre just up the road. My attention was immediately drawn to the roadside sign; big and bold, daring you to ignore it. We decided to stop by on the way back, and let's just say it was the best decision we ever made.
As soon as you walk through the small gate, the first thing that ushers you in is the amazing ambience. The lush plants that dot the area make for a relaxed atmosphere, the trees forming a lovely canopy shield you from the glaring sun and allow for fantastic al fresco dining.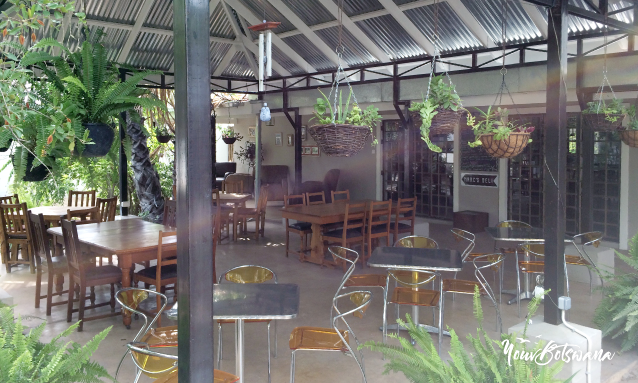 Marc's Eatery – proudly Maun
Hearty, home-cooking with a contemporary flair, served by a friendly, dynamic team in a sociable oasis that indulges all senses.
---
Marc's Eatery offers homemade mayo, pesto, sauces, dips, jellies, relishes cakes, pies, breads and pissaladières. A delicious variety of freshly baked cakes are available daily. Daily specials are displayed on a blackboard and the restaurant Facebook page. All items on the menu can be ordered to take away.
---
You simply have to try the Virgin Mojito – utterly divine and refreshing, just what the doctor ordered for the scorching hot Maun weather!
What I had
Melt-in-the mouth fish cakes, gorgeous chips (very hard to find in Botswana) and a lovely, crisp side salad. For condiments, I had homemade mayo and a chilli relish, all washed down with a tall glass of refreshing virgin mojito, which was utterly divine! Just inside the restaurant, Marc's eatery has a Deli corner, a lovely display of all the products they make from scratch, available to customers to buy.
Some of the products you can buy
Frozen and fridge products
Iced beetroot soup
Creamed spinach
German vanilla cream
Tomato and basil soup
Basil pesto
Croutons
Organic dates
Second to none service
We were served by a very professional but friendly waitress called Angie, who was an absolute star without being over the top! She was all too happy to converse and answer questions, even making recommendations. We were so impressed with her service that we just had to know her background, and weren't surprised to hear that prior to Marc's Eatery, she worked at a safari lodge in Kasane.
The owner/chef, Marc was equally as warm and welcoming. At one point, I saw him making the rounds, stopping at each table to ensure everyone was happy. When we asked for a minute of his time, he was happy to speak to us, allowing us to take pictures to go with our review.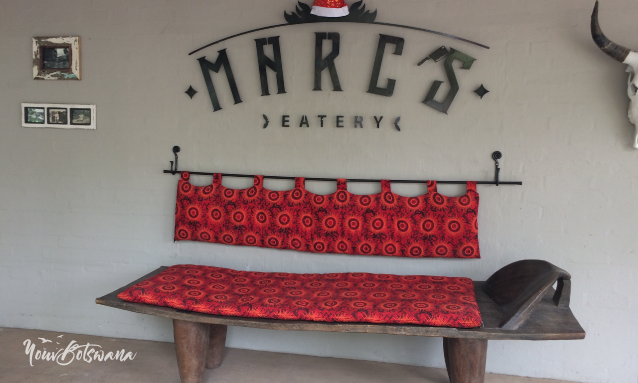 Marc's Eatery ticks ALL the boxes
Great ambience. Fantastic, friendly Service. Affordability. Gorgeous food. Décor. Branding
I can quite honestly, hand on heart say there was not a single thing I disliked about Marc's Eatery. If you need any more convincing, you only have to visit their Facebook page and Trip Advisor to see what others have to say about this little gem! We at YourBotswana give it a solid A+. It's received across the board 5* ratings both on Facebook and Trip Advisor. I can only hope that this continues for many years to come, because Marc's Eatery is a rare gem that all foodies would do well to visit at least once in their lifetime. I CAN'T wait for my next visit to Maun so I can visit Marc's Eatery and stuff my face full of their goodies as well as buy some of the products to bring back home.
To Marc and his team, we say congratulations on your fantastic work and long may it continue!
---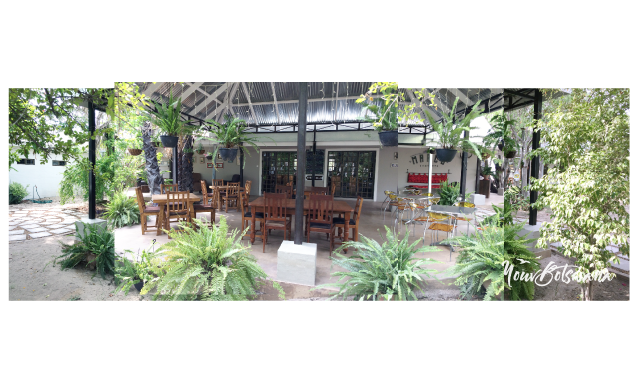 Another Nod for Marc's Eatery from another happy diner
My experience of Maun started when I first visited Botswana back in 2006. Back then there were plenty of options for eating out whether it was a local lodge, Wimpy, Nandos and even the frustrating venue that is Croc Farm with their we-do-and-we-don't-want-local guests attitude. Fast forward a decade and you are spoilt for choice and I believe you will find better dining experiences in Maun than in Gaborone.
By virtue of my profession and my experience of working for a large contract catering firm, I am what I like to call an "eating establishment snob" and unashamedly so. I'm not a foodie as such, I don't just scrutinise the food, I scrutinise the whole experience – the food, the service and even the formatting and typeface on a restaurant's menu. Marc's Eatery is one of the few establishments that pleasantly surprised me and my only regret is that I don't live in Maun, so I can't visit the place regularly.
As a brand, Marc's Eatery is superb and quite different to anything else you'll find in Maun. The main building has a large counter at the entrance and behind is an open kitchen. Plants surround the eating area, above the plants is a constant watering system that sounds like it's raining, which adds to the serene ambience whilst keeping the air cool. The food is delicious, but the subtle push to put your hand in your pocket is brilliant. Order a coffee and you'll get a small tasty treat on the side and you can purchase those tasty treats inside. To the left of the main counter is a small shop where the home baked tasty treats are packaged and for sale.
Marc's Eatery has taken service very seriously too. We were so impressed with our waitress we enquired about her background, she told us she had worked for a safari lodge in the Chobe. The attention to detail is all areas of this business are amazing, right down to the use of a butcher's cleaver instead of an apostrophe in the eatery's logo. It's not an original concept, but it shows Marc and his team have given thought and consideration to every aspect of their brand. They've even added a personal touch by displaying what looks like a personal photo album on the walls of the main building.
Marc's Eatery has raised the bar; it's so good it could become a franchise and that is the highest praise I can give. I worked for a catering firm that spent hundreds of thousands of £s creating commercial eating environments like Marc's Eatery for high-end clients in places such as London. Marc and his team have managed to blend a local concept with a Western influence and this is by no means easy to do. However, like most great establishments I have come across in Maun (eating or otherwise), I hope it doesn't become a franchise. I love the fact that it is unique to Maun and it's something I can look forward to visiting whenever I'm in Maun.
Gary Ashworth – Blue Zebra Creative