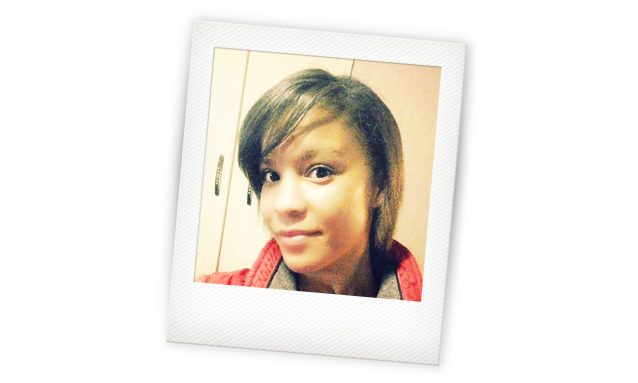 Dumelang, my name is Charné Ockhuizen. I'm a 25-year old Motswana and here's my profile.
My full name is Charné Alexis Ockhuizen. I don't actually have a Setswana name.
I work as a Customer Service Officer at CENE Media, an up and coming ISP with Australian roots. I'm an English teacher by profession but the severe lack of jobs in Botswana has led me to this job. I work within a small team of formidable ladies with a burning passion for excellent service delivery. I haven't been in the job very long but so far I love it because it's very varied, fast-paced and highly charged. No one day is the same, so it's never boring.
I would describe myself as a very open person and very approachable. Others have described me as loud, talkative and friendly. Some of my friends have also said that I'm feisty and don't suffer fools gladly, which I suppose is true. My small stature belies a person so big and bold, a person who refuses to be trampled. One thing for sure, If I'm not happy about something, you'll know about it hahahaha.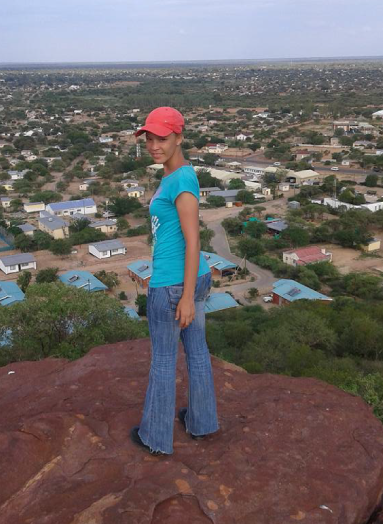 As far as hobbies go, I like to keep it easy. I love to kick back and read novels or watch movies. I was having a conversation with my supervisor recently and she was surprised to hear that as someone who's studied English at university, I have no interest whatsoever in writing. I suppose some people think it'd make sense for me to enjoy writing but it's just so involved and demanding that I much prefer to read other people's work.
A year from now, I hope to have a better understanding and a better lead in terms of my role in my job. I've only been in the job for 2 weeks. There's so much to learn but so far, I love it. I'm still learning the ropes and trying to find my comfort spot, so I can't wait for the day I can say that I've mastered my job.
My Background…
I come from Artesia, a village in the Kgatleng District. It is located approximately 55 km north of Mochudi, along the Gaborone – Mahalapye road. Artesia is a peaceful village comprised of a lot of farms on one side. With a population of just over 1, 450, It's a community where everyone knows their neighbour; a friendly community in which people are united and supportive of one another.
I live in Gaborone, the capital city of Botswana where everyone looks out for themselves and the lifestyle is totally different since it is a city. It is not safe and relative to the rest of Botswana, it is also very busy. Artesia is 64 km (roughly 40 miles) from Gaborone, yet the two are worlds apart.
I think I am very privileged to have grown up in Botswana. In terms of the crime rate, compared to other countries like South Africa, it's a lot safer. I feel safe at home and we are a peace-loving nation. Although Botswana is still a developing country, I feel it's a blessing to have grown up in such a 'young' country and having the opportunity to witness the developments taking place right before my eyes, being able to look back at all the milestones the country has achieved and keeps achieving.
The person I draw inspiration from is my grandma, even though she is no longer with us. She inspires me because she taught me that no matter how much you struggle, you should never give up, that you should always be able to share the little you have with those around you. She was a people's person and wherever she went she always made friends and that taught me that in life you will always need the help of others and that no man is an island.
She was a staunch Christian with firm beliefs and she raised us her kids with those principles. Family values were very important to her. She strongly believed that family is everything and needs to stick together as a unit in good or bad times. She was also very strict when the need arose and made sure that we followed her rules. She loved being with us during holidays when her house would be full, with all the family members present. The house would be filled with laughter and joy, everyone would be so happy.
This may be an odd one, but people may be surprised to know that when I am hungry I'm the quietest person in the room hehehe! I become grumpy and sort of withdraw into myself until I can finally eat. There, I've said it. I did say it's odd.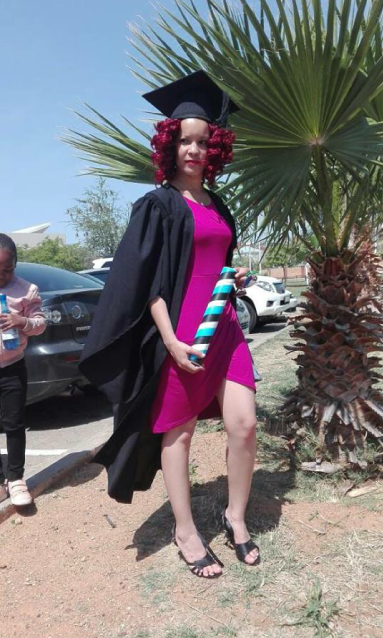 My greatest achievement so far is having obtained my Degree in Environmental Science and English and also my Post Graduate Diploma in Education. It wasn't easy but I'm proud to say I did it.
About Botswana…
What makes me proud to be Motswana the most is my love for our culture; when I look at how we dress culturally, the delicious cultural dishes we have in our country, I swell up with pride. Most important of all, I love how the process of the traditional wedding is orchestrated, the respect it is given and the way the community comes together for the preparation as well as the celebration. I love it!
Botswana is essentially beautiful because of its flourishing landscapes, tourism and wildlife. The people are friendly and very helpful as well as very accepting of other nationalities visiting Botswana. It is so far removed from being a shithole!
If I could change anything about Botswana, Maybe it'd be the heat. Botswana is a very hot country. On a serious note, I would change how hiring system is being run, how people are employed. This would lower corrupt practices in the country.
Within Botswana, the place I have visited and enjoyed the most is Kasane. I actually lived there for two years. I loved the beautiful, lush forests, floodplains and periodic marshlands; amazing views all teeming with some of the most fascinating wildlife, which all contribute to the magic of Kasane and the Chobe district in general.
Many people don't actually know that Botswana's forests are largely concentrated in the Chobe area. When I lived there, I used to love passing by the guest lodges just to watch people and marvel at the wildlife flocking to the water streams for a drink or the warthogs just grazing nearby. It was a lovely sight to see the excitement on the people's faces who witnessed that for the first time. Like experiencing it through their eyes every single time!
I would love to go visit Maun, the gateway AND home to the infamous Okavango Delta. I would love to walk barefoot in the white, soft sands of Maun feeling all relaxed. I have heard so many fantastic and fun stories about the place, not forgetting its beauty. I bet it'd be a dream to go on safari out on the delta, being at one with nature; far, far away from all civilisation.
Beyond Botswana borders, I would most love to visit Italy to taste all those delicious dishes I always see on T.V. Visiting Italy would be a breath of fresh air, as I have heard it's THE place of romance, the culture would be captivating and enchanting.
Speaking of food, as far as traditional Botswana food goes; I love samp and beans. It's my favourite of all time. My mum often made knowing how much I would indulge and ask for seconds. I love the way the dish tastes and how filling it is once you've stuffed your face full of it like I often do LOL I could eat this dish for a whole week straight without complaining, with a little bit of black pepper or chillies mixed with a bit of vinegar for that zesty taste. Not how it's traditionally served but it works for me.
Having celebrated 51 years of independence last year; going forward, Infrastructure wise I would love to see more malls being built in the country and the rural areas being more appreciated. I would also love to see the public transport system being upgraded and the buses being in a better condition. Not forgetting our roads being fixed to ease the journey for those travelling by bus.
YourBotswana…
I discovered YourBotswana through a friend who told me about an article on the site. I visited the page only to be captivated by the amazing and educational articles. I learnt a lot from the website and it is so much fun. I really like the interface as well as the branding. I like the use of blue, which is in keeping with the website being about all things Botswana. I think a lot of thought has gone into it.
The overall look is clean and just amazing. I love the eye-catching features and the fact that it is also well organised. The articles are easy to read; written in good but easy to understand English. It is not too serious as there are some funny articles that will leave you falling off the chair from laughing.
I really like the article titled "Do black people really need to wear sunscreen". I also enjoyed articles such as Why doing business in Botswana in 2018 is a great option and 5 best African sunset destinations but mostly, I loved the Harry brings girlfriend to Botswana article. This article touched on a lot of aspects that an international VIP came to Botswana; it enlightened me on a lot.
I was motivated to submit my profile because I love how the website covers a wide range of topics, whether it's politics or reviews or even need to know facts. The page also covers changes that take place in our economy. I like that the fact that the website is about celebrating everything positive about Botswana, including its people. So that spurred me on to contribute my profile to share with the world the type of people Batswana are.
YourBotswana as I said is spontaneous and covers a lot of articles. I like it that way and don't want to predict or know the next article but maybe if they covered a bit more on sports and makeup. But I think the writer is doing a tremendous job on these insightful articles.
Thanks for reading my profile.