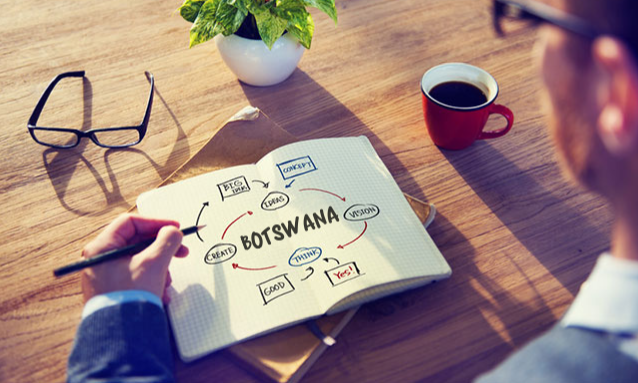 Botswana has developed a reputation as Africa's leading destination that offers a predictable and secure environment for your investment and business.
About Botswana
With a surface area of 581,730 km², Botswana is a land-locked country at the heart of Southern Africa, bordered by Namibia, Zambia, Zimbabwe and South Africa. Its central location in this region makes Botswana the perfect gateway for reaching the whole of the Southern African Development Community (SADC), making it the ideal investment and trade hub.
---
Fast Facts
Population: 2,024,904 (Population and Housing Census 2011)
Form of Government: Parliamentary Republic
Adult Literacy Rate: 83% (World Bank)
Official Language: English
National Language: Setswana
Gross Domestic Product 2016: US$ 15.6-billion
Per capita GDP: US$ 7,018
GDP Real Growth Rate for 2016: 4.3%
Inflation Average Rate: 2.8%
Currency: ISO code is BWP, One Pula = 100 Thebe
Weights & Measures: Metric System
---
Why Botswana?
Botswana provides a peaceful and stable environment to its citizens and investors and has maintained peace since Independence in 1966
Botswana has zero tolerance for corruption, boasts a sound legal system and adheres to the rule of law
Transparency International consistently rates Botswana as the least corrupt country in Africa
Botswana is committed to sound fiscal policy, economic freedom and has a steady and dramatic growth rate
Ranked as the world's second most attractive investment location by New York University's Altman's Baseline Profitability Index (BPI)
Has the highest sovereign credit rating, named the 2nd Freest Economy in Africa.
Has one of the fastest growth rates in per capita income in the world
Botswana opens the door to a massive market
Provides investors with preferential access to the Southern African Development Community's (SADC) entire marketplace – over 292 million people
Botswana provides duty-free access to South Africa, Namibia, Lesotho and Swaziland
Botswana provides duty-free and quota-free access to the European Union (EU) market
The quality of Botswana's workforce is second to none in Africa
The workforce is well educated — 82% are literate and most speak English
There are no labour tensions
Botswana people are peaceful and humble
The different communities maintain harmonious relations
The Botswana Government wants to make your investment work for you
No foreign exchange controls or restrictions on business ownership
Taxes are very low – 15% for manufacturing and International Finance Service Centre (IFSC) companies, 22% for other businesses and 25% for individuals
Botswana allows remittance and full repatriation of profits and dividends
Offers duty-free import of machinery and equipment for manufacturing purposes.
Botswana is committed to continued growth
Consistently invests in new and improved core infrastructure such as power plants, fibre-optic networks, roads, railways and international banking institutions
Botswana is establishing itself as a centre for innovation and Research and Development (R&D) via the Botswana Innovation Hub
Botswana's International Rankings
Botswana's competitiveness rises for the 2nd consecutive year to 64th (138), 4th most competitive economy in Africa. With strong macroeconomic environment in 2016/17, WEF-GCR
Botswana is the 3rd most profitable country in the world (BPI 2015), US Foreign Policy Magazine
Africa's second most free economy; ranks 28 out of 180 in the world in 2017 with regulatory frameworks that encourages growth, Heritage Foundation in partnership with Wall Street
Botswana is Africa's second most peaceful country; ranked 28 out of 163 in 2016, Institute for Economics & Peace
Botswana is the least corrupt country in Africa; ranked 35 out of 176 in the world in 2017, Transparency International
Need more reasons to do business or invest in Botswana?
Download the Botswana Investors Handbook 2017 – Contains all the information you will need to make an informed decision, plus investment opportunities in key sectors of the economy.
Botswana aims to work with you to enable a good business environment that meets your needs as you GO further with your investment. Contact Botswana Investment & Trade Centre (BITC) and take advantage of Botswana's enabling business environment.
Source: http://www.globalafricanetwork.com/2017/12/04/business-opportunities/why-doing-business-in-botswana-is-a-great-option-in-2018/