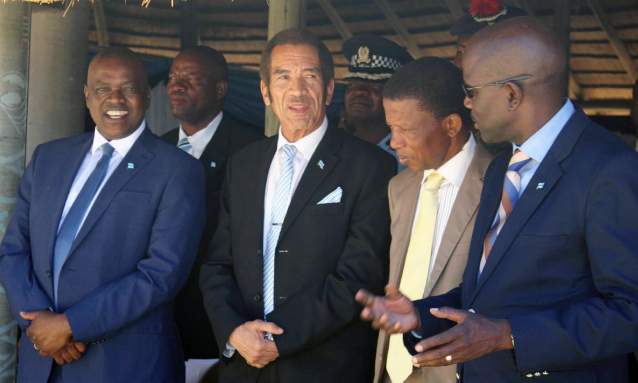 Scores of Batswana on Thursday morning braved the scorching sun to go and bid farewell President Lt Gen. Dr Seretse Khama Ian Khama at the Moshupa Kgotla as he kick-started his country-wide farewell tour as he prepares to step down in April 2018.
President Khama's journey is expected to take him across all 57 constituencies ahead of the end of his 10-year reign on April 1. In his address, President Khama assured Batswana that he would not stop serving the nation once he retires.
"It does not mean I will stop serving Batswana. I started serving Batswana in the police service, then I served in the army, as well as Cabinet, and as Vice President and President," he said.
President Khama further promised to continue assisting the needy with shelter through the presidential housing appeal initiative, which he established when he took power in 2008. Furthermore, President Khama said he would continue serving as Chancellor of the Botswana University of Agriculture and Natural Resources and also assist in the Ngwato tribal leadership.
President Khama said he has no doubt that the Vice President, Mr Mokgweetsi Masisi (pictured above, left), who's to take over from him, is the right person to take the country forward. In a vote of confidence for the VP, he said Mr Masisi is knowledgeable and multi-skilled on governance issues, describing him as a 'Jack of all trades and master of many.'
"After years of working with him, I have never regretted appointing him as Vice President and the next President of this country," President Khama said, urging Batswana to support Mr Masisi when he ascends to power in April.
The community of Moshupa-Manyana constituency showed their gratitude to President Khama by showering him with gifts, which included cattle, sheep, goats, pigs and money. President Khama reciprocated by pledging P20 000 towards the completion of the Kgotla shelter in Moshupa.
Reference: BOPA
Image source: BWgovernment Facebook page