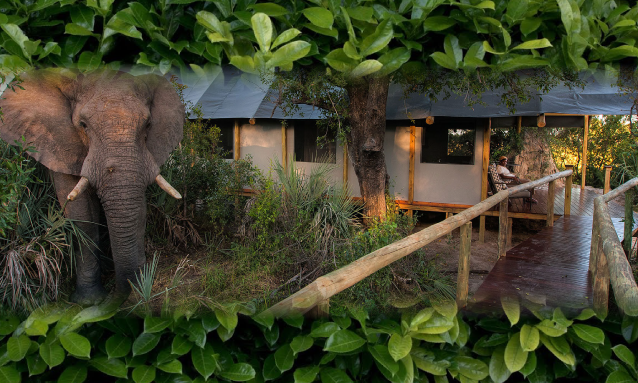 Chitabe Main Camp is situated in a private concession area on an island in the south-east of the Okavango Delta, renowned for its exceptional diversity of wildlife and superlative local hospitality.
After 20 years of delivering world-class, authentic safari experiences in the Okavango Delta, the elevated walkways and main camp buildings that make up the heart of Chitabe Camp are to be rebuilt in the first five months of 2018.
Run by leading ecotourism safari operator Wilderness Safaris, Chitabe Camp is one of the most popular lodges in the region and is set to offer guests an enhanced luxury experience following its rebuild.
Mark Thomas and his award-winning team, who crafted the Boomslang walkway in Cape Town's Kirstenbosch National Botanical Garden, created the new and exciting design. Chitabe's new walkways will feature sinuous curves and soft lines inspired by the graceful meandering of the Okavango waterways. Nestling in the natural beauty of Chitabe Island, they will feature low footprint longer spans, a more delicate-looking structure and an elephant underpass.
According to Helene Hamman, CEO of Chitabe Camp for the last 20 years,
"When we originally built Chitabe Camp, it was the first completely elevated camp in the Delta. Since then, we have welcomed and created a lifetime of memories for many guests.
Although the camp is still exceeding our guests' expectations, we wanted to raise the bar yet again and to rebuild the main area in the most responsible and sustainable way possible.
Working with Mark and his talented team to creatively plan the new look and feel for Chitabe has been an exciting process and we can't wait to reveal more surprises to our trade partners and guests along the way.
Lead Architect, Mark Thomas states;
"The under-thatch design of the new elevated buildings encompasses a less is more philosophy, combining the tasteful and responsible use of modern and traditional materials to produce an environmentally-respectful safari experience that is visually and sensually pleasing. The revolutionary design will herald many firsts for the Okavango, ensuring Chitabe remains a responsible custodian in one of the Delta's highest game concentration areas."
---
The main area will feature both indoor and under-star dining experiences whilst a unique, elevated fire of a million stars white Kalahari sand deck will be the central heart of Chitabe. A new lap pool, relaxation lounge and a gym will provide guests with healthy exercise opportunities while moments for introspection will be found in the new library.]
---
Mark reflected on the project,
"Our journey with Chitabe started when we first stepped onto the island and were in awe of the natural beauty of its many trees. It has been critical to retain those as the canvas dominating the camp landscape, so we unobtrusively weaved the buildings in and around the trees and termite mounds, harmonious to the natural order of Chitabe.
Ms Hamman said they are confident that the new look Chitabe will be a huge success, and that they look forward to hosting guests from June 2018 onwards, "when they can experience the magic of an even more beautiful Chitabe for themselves."
For the complete article: FYI – From Incentive Travel @ https://www.incentivetravel.co.uk/news/hotel/42617-wilderness-safaris-announces-plans-to-rebuild-chitabe-main-camp-botswana
Featured image source: Wilderness Safaris