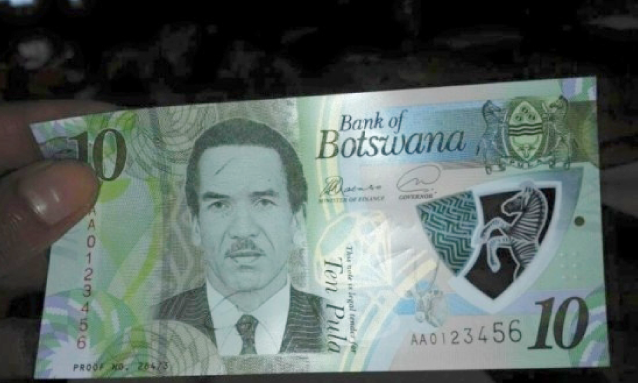 A new polymer 10 – Pula banknote with new security features is to be put in circulation next February. Briefing the media on Monday, Bank of Botswana governor, Mr Moses Pelaelo said the banknote is being replaced following public outcry over the quality of the current banknote.
Mr Pelaelo said the main motivation behind the move was durability, explaining that with the banknote being the lowest denomination, it remains in circulation far longer than higher denominations. The governor further said while the current 10 – Pula banknote is expected to remain in circulation for four months, it's been observed that it remains in circulation for eight months because it's used largely as change.
"A varnish has been applied to the new 10 – Pula banknote to extend its lifespan," he said.
Mr Pelaelo said using polymer allows for the adoption of more advanced security features, which guards against counterfeiting as well as to enhance confidence in the national currency.
The new banknotes are made from a polymer such as biaxially oriented polypropylene. Such notes incorporate many security features including the use of metameric inks, absent in regular paper banknotes.
Mr Pelaelo said the polymer substrate is more durable than the paper substrate, extending the lifespan of the banknote by approximately 3 – 4 times that of a banknote made of paper substrate.
"The non-absorbent nature of the polymer substrate provides an effective barrier to moisture and soiling, which keeps banknotes clean for a longer period," he said.
Botswana has looked to countries such as Australia, Canada, New Zealand and the United Kingdom to benchmark, as they use polymer substrate for their banknotes. The new P10 banknote has largely maintained the same design and colour as the existent one banknote. It feels smoother than the paper banknote and has a clear window, which replaces the watermark in the old paper banknote.
Held against the light, a rampant zebra can be seen in the clear window from the Bank's crest on either side of the banknote. The figure 10 can also be seen in the shield beside the rampant zebra. When the banknote is tilted, a shiny golden diamond can be seen in the middle of the banknote.
Under ultra-violet light, various parts of the banknote such as the serial number on the left, a large number 10 next to the portrait of the President and some small text behind the Bank of Botswana title glow.
When examined under magnifying devices, some areas of the banknote that appear either as a line or areas of plain print, are in fact small letters and numbers.
Source: BOPA