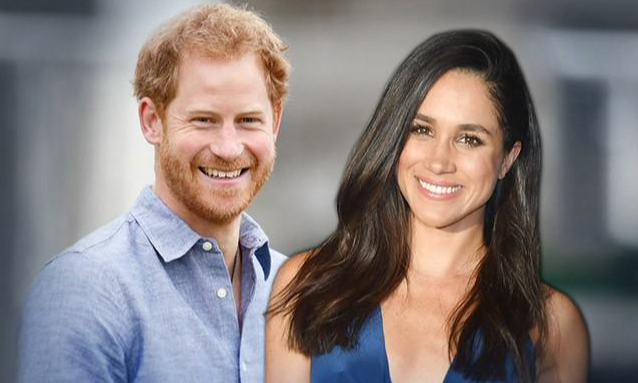 Botswana has played a central role in Prince Harry's fairytale romance with the American actress Meghan Markle. After just two dates the already-smitten royal decided to whisk his future bride off to the country to enjoy five nights camping under the African stars.
Prince Harry would later say he felt the "stars were aligned" when he met Miss Markle.
The couple returned again the following summer, and Botswana was still very much in the Prince's mind when he began designing the engagement ring with which he proposed; at its centre is a diamond from Botswana! But then it should almost come as no surprise that an African country is the place where Prince Harry chose to escape to after meeting Miss Markle. He has previously admitted the continent is the place "where I feel more like myself than anywhere else in the world." 
So deep is Prince Harry's love of Africa, he has previously stated;
"I have this love of Africa that will never disappear – and I hope it carries on with my children as well."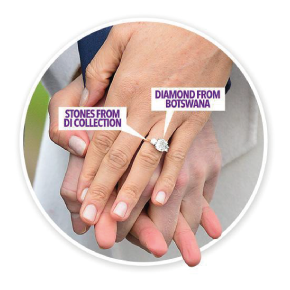 Meghan Markle engagement ring's 3D replica becomes bestseller 
Even as the world awaits the royal wedding of Prince Harry and Meghan Markle, a Canadian jeweller has created a replica of the royal couple's wedding ring using a 3D printer. The ring, which has personally been designed by Prince Harry, features three diamonds. Moreover, the ring features two diamonds of late Princess Diana, which makes it even more special and 'priceless.'
Experts estimated Meghan's engagement ring could be worth £200,000 or more. The exquisite gold ring features a huge center stone from Botswana — a place of significant importance to Prince Harry and Meghan. The two stones from either side of the ring belong to Princess Diana, UK publication, Ok! Magazine –reported.
In an interview with the BBC, Prince Harry, when asked about why he chose to put his mother's diamonds in the ring, said;
"To make sure she's with us on this crazy journey together."
However, a Canadian jeweller used a 3D printer to create an exact replica of the ring — but a much more affordable one. The replica of the ring costs £124 and is already a best seller. The Canadian retailer 'Jewlr' based in Toronto, Canada, said that the replica, which he dubbed "The Duchess", has already broken all records since it went on sale Monday evening.
Jewlr owner, Tony Davis said;
"The Duchess is just a slice of the price that Harry spent on Meghan's ring, starting at £124. Within minutes of Harry and Meghan's photocall going live, we experienced a huge influx of searches for three-stone rings. Due to our production methods, we can turn designs around extremely quickly, and once online, products can be created and shipped to customers within days.

It's great to be able to meet customers' demands for celebrity styles so easily. We already know that Meghan is one of the most influential celebrities for driving our sales in the U.K, but it's interesting to see the same effect with a traditional engagement ring. Interestingly, we had an equal amount of female customers as male, which could mean a new trend for women buying engagement styles as a fashion accessory "
How Meghan Markle's "socially relevant" engagement ring could influence brides-to-be
Experts predict the details of the ring, including how it was sourced, could drive trends.
When Prince Harry and Meghan Markle announced their engagement at the end of last month, the sparkle on Markle's finger quickly became one of the most scrutinized pieces of jewellery on the planet. After all, if the coat the Suits actress was wearing could sell out so quickly, how might her engagement ring inspire brides-to-be?
Jewellery experts predict that Markle's ring — a cushion-cut diamond Prince Harry sourced from Botswana, flanked by two round diamonds from the personal jewellery collection of his late mother, Princess Diana, all set in a yellow gold band — could play a role in choices made by couples, from sustainable sourcing practices to throwback vintage touches.
---
"Millennials tend to be more conscious about sourcing and responsibility and care for the earth, so chain of custody and provenance of a diamond easily could become an important part of the conversation.
"They also tend to be very personalized in their choices, and they like diamond cuts that are more unique. That diamond, which appears to be a lovely cushion cut, fits right in with that idea," says Elizabeth Brehmer of the Carlsbad, Calif.-based Gemology Institute of America.
---
"Harry made a very socially conscious choice, which is amazing, but it's also what you would expect from him.
Harry knows the country, he knows the people, and he wants to make a statement that's socially relevant." (Earlier this year, Harry whisked Meghan away to spend her 36th birthday on a wildlife safari in Botswana, a country he has called his second home and in which he has worked on wildlife conservation efforts.)," notes L.A.-based designer Neil Lane, who often travelled to Botswana when he worked with De Beers, which has partnered with the country for more than five decades to ensure diamonds are ethically mined.
---
"If he bought the stone in Botswana, then it's likely a De Beers diamond, and they take responsible sourcing to a whole other level," "It's not just about conflict-free diamonds. For every hectare devoted to mining, De Beers will allocate seven hectares to wildlife preservation, and when a mine is closed, they'll replant all the indigenous trees. They hire all locals, build schools and lift up entire communities," agrees New York-based designer Marisa Perry, who uses the company's Forevermark diamonds in her work, which included making the engagement ring Ben Foster gave Laura Prepon in 2016.
---
A true modern day fairytale! We at YourBotswana are truly happy for the newly engaged couple and wish them the very best for the future! Congratulations!
Source: FYI from the Kaplan Herald, full article @ https://kaplanherald.com/2017/12/02/an-african-fairytale/ FYI from International Business Times, full article @ http://www.ibtimes.com/how-much-does-meghan-markles-three-diamond-engagement-ring-prince-harry-cost-2620357