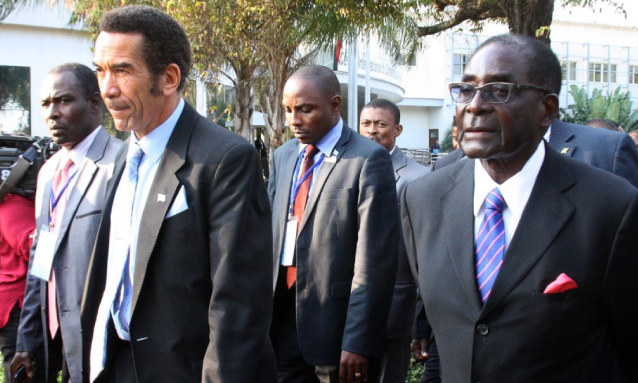 Zimbabwe President Robert Mugabe should end his attempts to remain in office after the military seized power this week, as he has no regional diplomatic support to stay in power, Botswana's President Ian Khama said on Friday.
President Khama whose presidency comes to an end early next year, told Reuters that the military intervention, which political sources say could pave the way for a national unity government after 37 years of Mugabe rule, also presented "an opportunity to put Zimbabwe on a path to peace and prosperity."
"I don't think anyone should be President for that amount of time. We are Presidents, we are not monarchs. It's just common sense," Khama said.
What is the situation in Zimbabwe?
Thousands of Zimbabweans have taken to the streets of the capital and other cities to demand the resignation of President Robert Mugabe. In a party atmosphere, they tore pictures of Mr Mugabe and at one point marched to his office and residence. The army took over on Wednesday; days after Mr Mugabe sacked his deputy, signalling that he favoured his wife Grace as his successor.
Mr Mugabe, 93, has led Zimbabwe since independence from Britain in 1980. The military has kept him confined to his residence and says it is "engaging" with him and will advise the public on the outcome of talks "as soon as possible". Saturday's rally had the support of the army and members of the governing Zanu-PF party. Veterans of Zimbabwe's war for independence – who until last year were loyal to the president, the best-known among them – are also saying Mr Mugabe should quit.
Outside State House, the official residence, some people staged a sit-down protest in front of a line of troops and opposition leader Morgan Tsvangirai addressed the crowd, to cheers. The BBC's Andrew Harding in Harare says this is a watershed moment and there can be no return to power for Mr Mugabe. The correspondent says the situation may appear to be getting out of Zanu-PF's control and there could be a broad push to introduce a transitional government that includes the opposition.
On Friday, Mr Mugabe made his first public appearance since being confined to his house. He spoke only to open the graduation at a university of which he is chancellor. Grace Mugabe was not present. It had been thought she had left the country but it emerged on Thursday that she was at home with Mr Mugabe.
The military made its move after a power struggle over the successor for Mr Mugabe. He sacked Vice-President Emmerson Mnangagwa last week, apparently to pave the way for Grace Mugabe, who is four decades younger than him, to take over the presidency. Mr Mugabe's nephew, Patrick Zhuwao, told Reuters news agency the couple was "ready to die for what is correct" and would not step down.
What has been the reaction around the world? 
US Secretary of State Rex Tillerson urged a quick return to civilian rule, but also said the crisis was an opportunity for Zimbabwe to set itself on a new path
Chinese foreign ministry spokesman Geng Shuang said Beijing was hoping for stability and a peaceful "appropriate" resolution
UK Foreign Secretary Boris Johnson warned against a transition from "one unelected tyrant" to another
Botswana's President Ian Khama said regional leaders did not support Mr Mugabe staying in power
Alpha Conde, the chairman of the African Union, a key regional bloc, said the takeover "seems like a coup" and demanded a return to constitutional order
South Africa's President Jacob Zuma said the region was committed to supporting the people of Zimbabwe and was optimistic the situation could be resolved amicably
Whatever happens in Zimbabwe, we can only hope the outcome favours the long-suffering people of Zimbabwe. We can only hope that the whole situation does not descend into bloodshed and loss of life and is resolved with relative calm and peace.
Source: Reuters, BBC News
Image sources: voazimbabwe.com & adelove.com