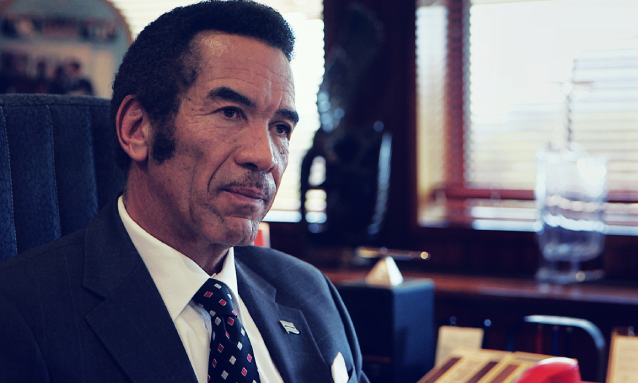 President Lt Gen. Dr Seretse Khama Ian Khama this week bid Batswana farewell ahead of the end of his tenure next March. Presenting the State of the Nation Address in Parliament on Wednesday, the President said he would be "passing the Botswana leadership baton onto the capable hands of His Honour the Vice President."
He implored the nation to continue supporting the next administration to build on the legacy of progress that was started by his predecessors. Additionally, the President called on the nation to remain united despite their differences. He said having interacted with Botswana citizens from all walks of life up and down the length and breadth of Botswana; he has faith that the nation will remain united in its diversity.
"While we will undoubtedly continue to confront significant challenges, when we place the interests of Botswana first we shall find the strength to overcome all obstacles.

But to achieve our vision for a better future by 2036, while overcoming our current challenges, will require greater commitment and productivity from all sectors of society," he said.

"We have no choice but to compete with the best in the world. This must remain a daily challenge for all of us, both inside and outside government, for as I said last year, continued overreliance on the state is no longer a sustainable option," he continued.
State of the nation Address -Projections show growth in economy
President Lt Gen. Dr Seretse Khama Ian Khama says the economy is expected to grow by 4.7 percent this year and 5.3 percent next year, driven mainly by an improvement in both mining and non-mining sectors.
Addressing the nation this Monday, the President said the economy grew by 4.3 percent in 2016, driven by non-mining sectors such as Trade, Hotels and Restaurants and Transport and Communications industries.
"A key factor in boosting the hotel and hospitality sector in recent years has been the growth of downstream diamond industry activities following the relocation of the Diamond Trading Company from London to Gaborone in 2012," he said.
President Khama said notwithstanding the negative effects of the BCL liquidation, contraction in the mining sector was also reduced last year to 3.7 percent as opposed to 19.6 percent in 2015.
Hope for water and electricity
The President said the water and electricity sector is projected to expand as a result of an additional unit at Morupule B power station and the restoration of Morupule A and is further expected to boost other sectors of the economy. He said diamond production is also expected to increase due to recovery in global demand, particularly in advanced economies.
The recently released World Economic Outlook report by the International Monetary Fund (IMF), projects the global economy to increase to 3.6 percent in 2017 and 3.7 percent in 2018.
"Despite this modest economic outlook, medium-term downside risks remain, including prolonged policy and political uncertainty in both advanced and emerging economies," he said.
Rate of inflation down
The President said advanced economies are now expected to grow at 2.2 percent in 2017 and 2.0 percent 2018, improving on the 1.7 percent attained in 2016. With regards to the inflation rate, President Khama said it was encouraging that is has remained at the lower end of Bank of Botswana's medium-term inflation range of 3 – 6 percent. He said since the beginning of the year the rate hovered between 3.1 – 3.5 percent.
Botswana registered a trade surplus of P13.5 billion in 2016, resulting in a balance of payments surplus of P2.8 billion, in contrast with the deficit of P0.57 billion that was recorded for 2015.Total imports for 2016 were valued at P66.9 billion against P73.2 billion recorded in 2015, a reduction of 8.6 percent.
On foreign reserves, President Khama said at the end of August this year, they were valued at P76.6 billion, equivalent to 17 months of import cover.
"Our exchange rate policy continues to support the competitiveness of local industries in both domestic and international markets by maintaining the sustainability of the Pula against a basket of leading currencies," he said.
Reference: BOPA
For the complete document: https://drive.google.com/file/d/1aTa8loPQvEQQmEf0c7t2bBFXUDFZLj2M/view
Image Source: africa-ontherise.com