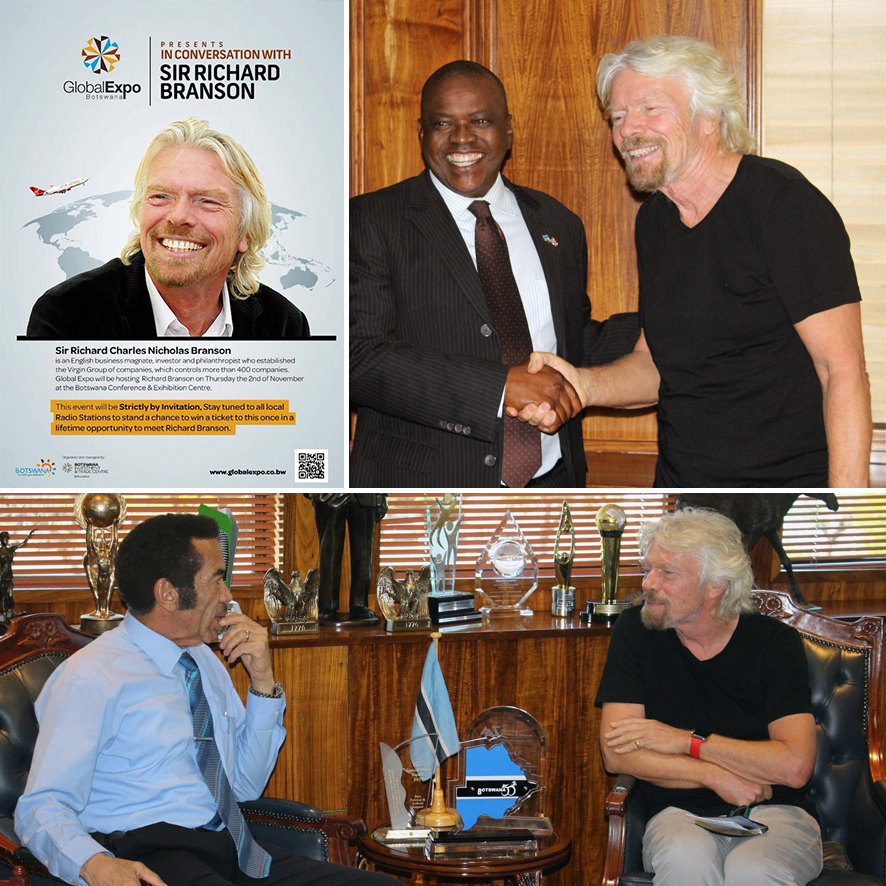 English business magnate, investor and philanthropist, Sir Richard Branson this week graced the Global Expo Botswana 2017 on the 2nd of November 2017. The event was strictly by invitation. The opening ceremony was attended by dignitaries and people from the global business world. It was held at the Botswana Conference and Exhibition Centre from the 31st October to the 3rd November 2017.
Sir Branson, who founded the Virgin Group, which controls over 400 companies, met with His Excellency the President Lt. General Dr. Seretse Khama Ian Khama and the Minister of Investment, Trade and Industry, the Honorable Vincent Seretse. Sir Branson also met with the Vice President, Mogweetsi Masisi and other senior government officials, fuelling the whispers that Sir Branson was in Botswana for more than just the Global Expo. A comment on Facebook alluded to the fact that Sir Branson may be in talks to take over ailing government-owned Air Botswana! But if that rumour is true, I for one wouldn't complain. 
Achieving export-led economy key for sustainable jobs
Meantime, Vice President Mokgweetsi Masisi says Botswana's key priority is to achieve an export-led economy that will create sustainable jobs. Mr Masisi said this on Tuesday when officiating at the 12th edition of Global Expo Botswana 2017, themed "Unlocking Opportunities for Economic Growth".
"As espoused in our long-term vision, commonly known as Vision 2036 and our NDP 11, this can only be achieved through the development of sectors and industries that will drive sustainable growth and diversification," he said.
To further achieve this, he called for coordinated efforts and contributions from various sectors of the economy, "particularly where we have comparative advantages, such as agriculture, manufacturing services, resource beneficiation, energy, tourism and the creative industries."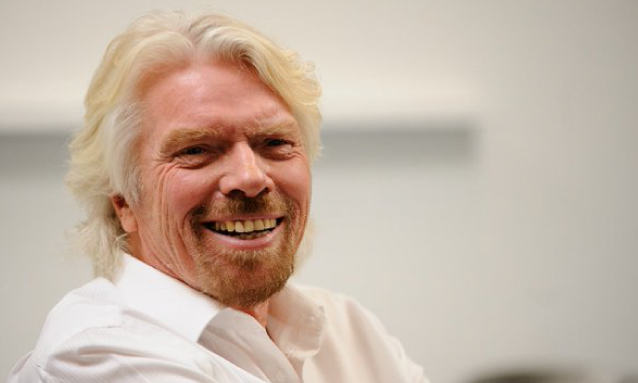 He urged investors to invest in Botswana, saying the country continues to review potential growth sectors and improve its investment climate, as these remain a high priority.
"It will continue remaining a high priority and we will continue to accelerate the rate of response in Botswana," he added.
Mr Masisi said the expo, which attracted over 220 exhibitors and delegates from Europe, Asia and Africa, provides an excellent opportunity for the local business community to meet and develop strategic business partnerships with international visitors from across the world. He said through the annual premier business to business exposition, foreign and local businesses also gain valuable insight that could optimise business sales, efficiency and networks with other businesses and consumers.
Additionally, he said the event "Maximises their exposure in the market and the support that provides an opportunity to build new business relationships, generate significant new leads with difficult to reach business decision makers and introduce new products to the market place."
The Vice President highlighted that Botswana is also great for investment as it has good market opportunities due to its central geographical position within Southern Africa, which places it as a gateway to regional and global markets as well as value chains.
"Therefore, as an investment hub for Southern Africa, Botswana provides the greatest opportunity for companies that wish to re-establish their presence in Africa, "he added.
Beyond market opportunities, Mr Masisi said Botswana also has a positive policy and regulatory environment for doing business, as evidenced by the 2017 Ease of Doing Business report, which ranked Botswana at number 71 out of 190 countries, ahead of countries such as South Africa and China.
Additionally, he said the A2016 African Investment Index also ranked Botswana as the most attractive destination for investment, while the 2017/2018 Global Competitiveness report put Botswana at number 63 out of 137 countries.
Vice President Masisi promised there would be a significant improvement in the ease of doing business in Botswana in the near future.
Reference: BOPA
Image in Botswana courtesy of BW Government