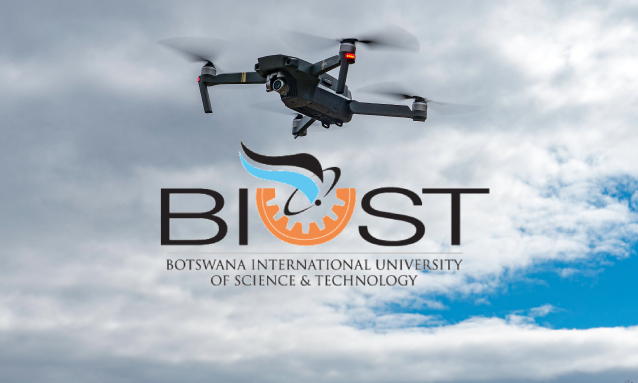 The Botswana International University of Science and Technology – BIUST through its Department of Computer Science and Information Systems is in the process of launching drones that are aimed at assisting with community service in Palapye and surrounding areas. This is part of the strategy to demonstrate the effectiveness of technology in delivering services.
Dr Dimane Mpoeleng, Senior Lecturer in the Department of Computer Science and Information Systems told the Weekend Post that BIUST is working towards getting appropriate licensing from the Civil Aviation Authority – CAAB to ensure that the project comes to fruition. The University has already constructed a mini-helipad from which the drones will take off and land from their missions in and around Palapye. There are already about ten drones of different makes to kick off the project. The drones cost between P18 000 and P40 000 each depending on the make.
"We will start small with these drones dropping off mail in and around the University. But we also want them to be of use to the Palapye community and other surrounding areas. We intend to have these drones dropping off essential medicinal items in homesteads in Palapye, especially the simple doses for children and the elderly."
Dr Mpoeleng explained that drones are, in a technological context, unmanned aircraft; but in a formal sense, are known as unmanned aerial vehicles (UAVs) or unmanned aircraft systems (UASes).
"Essentially, a drone is a flying robot. The aircraft may be remotely controlled or can fly autonomously through software-controlled flight plans in their embedded systems working in conjunction with onboard sensors and GPS," he said.
---
"In the recent past, UAVs were most often associated with the military, where they were used initially for anti-aircraft target practice, intelligence gathering and then, more controversially, as weapons platforms. Drones are now also used in a wide range of civilian roles ranging from search and rescue, surveillance, traffic monitoring, weather monitoring and firefighting to personal drones and business drone-based photography, as well as videography, agriculture and even delivery services," says a BI Intelligence Report.
---
To emphasise BIUST's commitment to the project, the University Vice Chancellor, Professor Otlogetswe Totolo said,
"We are a research-intensive university. Research projects should be relevant. We want professors who come up with projects that talk to the challenges faced by our people. One thing about Botswana is that we must learn to be proud of our own professors because they trained at the same schools as the foreign professors. We are confident that these interventions we come up with address the challenges faced by our people in the community."
A 2016 Business Insider BI Intelligence report forecasted the growth of enterprise drone use to outpace the consumer drone sector in both shipments and revenues by 2021, reaching 29 million shipments worldwide. It stated that the integration of drones and internet of things technology has created numerous enterprise use cases; drones working with on-ground IoT sensor networks can help agricultural companies monitor land and crops, energy companies survey power lines and operational equipment, and insurance companies monitor properties for claims and/or policies.
However, growth in commercial and personal drones has also created numerous safety concerns, namely midair collisions and loss of control. The publication from which this article was taken gathered that specific concerns about drones flying too close to commercial aircraft prompted calls for regulation, hence BIUST is engaging the CAAB for the licensing regime. The CAAB has implemented a set of unmanned aircraft rules, placing limits on autonomous or semi-autonomous drone operation.
Source: Weekend Post