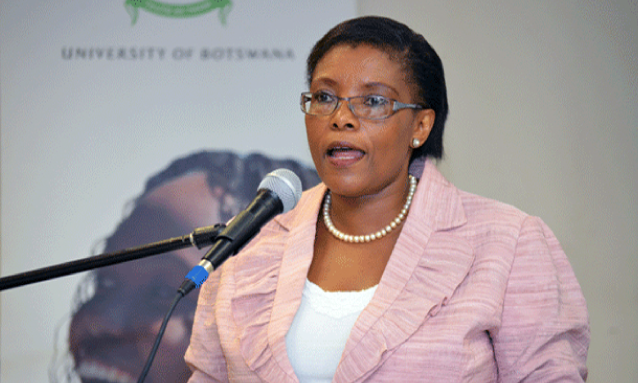 Botswana and South Africa have embarked on efforts to bolster institutional collaborations and partnerships between the countries' institutions of higher learning. This emerged this week during South Africa's senior education official, Mr Ghaleeb Jappie's courtesy call to UB's acting Vice Chancellor, Professor Kgomotso Moahi, this week.
Mr Jappie, Director of South Africa's Department of Higher Education and Training for International Relations, said the aim of their visit to Botswana was to explore opportunities for collaboration and to create institutional links and partnerships between Botswana and South African universities. He said initially, the number of Batswana students studying in various South African universities was very high but since the 1980s, the number has dwindled to 1 600.
Currently, UB has collaborations with the University of Stellenbosch and the Cape Peninsula University of Technology and intends to collaborate with more, while South African universities are to collaborate with not just the UB but other institutions in Botswana.
"We welcome the idea to have South African students coming to study. We have ample opportunities and it is something that we are strategically looking into given our internationalisation policy," said Professor Moahi.
Professor Moahi said the UB Campus has a 20 000 capacity but currently has 12 000 students. She said the UB intends to take on more students but will not do so at the detriment of quality. She highlighted that for that reason, the UB embraces the idea of welcoming international students and collaborating with sister universities in the southern African region and beyond.
Professor Moahi and Mr Jappie agreed that it does not make sense for Botswana and South Africa to send students overseas when they could be studying in the region.
"It doesn't make sense to send students far away when we can send them three hours away. Therefore, we are going back with the message that the University of Botswana is open for business," Mr Jappie said.
He further said it was time South Africa considered the region for higher learning, which is also in line with the SADC Protocol on Education that espouses regional cooperation at institutional levels.
Meantime…
Deborah Mosothwane graduates Valedictorian
The University of Botswana yesterday held the 35th Graduation ceremony and the inauguration of the Chancellor, the Vice President, Mr Mokgweetsi Masisi.
The graduation ceremony, held at the UB stadium, saw Deborah Mosothwane receiving the glowing accolade of receiving the University of Botswana 2017 Valedictorian. The honour is bestowed upon a student who has demonstrated overall academic excellence and leadership qualities during their studies at the University.
A snippet of Deborah's speech on graduation
"Fellow graduates, as we embark on another chapter of life, let us remember that our academic success would be meaningless if we fail to help OTHERS to also succeed. True success, we are told, means influencing others to do the right thing as well as putting into practice what we have learnt in our various fields of study. True success should be seen in our individual lives; our contributions in our societies; and in adding value to the economies of our beloved countries through creative and innovative ideas.
Ralph Emerson once said, "Do not go where the path may lead; go instead where there is no path and leave a trail." Fellow graduates; let us, therefore, invest on (sic) being trailblazers of excellence that can be followed by others in the years to come.
Wise words indeed from a young lady who not only possesses great beauty and poise but also brains. A young lady who radiates warmth and positivity. Congratulations and way to go, Deborah!
Yesterday's event also saw the Vice President, Mokgweetsi Masisi officially inaugurated as the 4th Chancellor of the University Of Botswana. Congratulations, Mr Vice President and may you be a solid guiding light for UB!
BW Government Facebook page