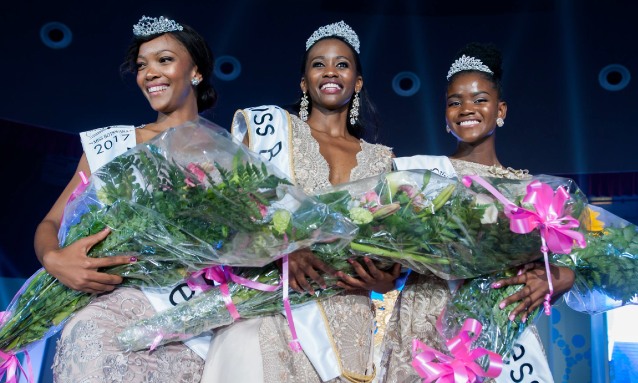 In what's perhaps the least talked about and lackluster Miss Botswana pageant, Nicole Lisa Gaelebale has been crowned Miss Botswana 2017 with Neelo Nthobatsang and Uua Murangi as her first and second princesses respectively.
I'm no expert event organiser, but with this year's pageant taking place on a school night; this Thursday to be precise, during the week preceding the Bot50+1 festivities, it seems to me that Miss Botswana 2017 was always going to be a damp squib. A search for coverage on the event returns virtually no results, with a couple of other pageants such as Miss Independence 2017 stealing some of the limelight. Right from the off, this year's lineup sadly failed to ignite much excitement in many Batswana, instead drawing countless harsh comments on social media. To add salt to injury, once the competition concluded, very little was reported across various media houses.

Nicole Lisa Gaelebale, Neelo Nthobatsang, Uua Murangi
Miss Botswana 2017 marred in Controversy
As is Miss Botswana's yearly custom, this year wasn't without its own scandal! With as little as three weeks before it took place, there were serious doubts as to whether or not the pageant would take place at all. The main reason cited was severe lack of funds. The whole thing seemed on the brink of total and utter collapse as the clock furiously ticked towards the finale, yet none of the organisers could be reached for comment. Right up to the eve of the event, people were still asking when it was taking place all over social media!
To make matters worse, news emerged that outgoing Miss Botswana; Thata Kenosi could not attend the pageant to pass the crown onto the winner as she was in the UK starting her studies there. It was decided that it would be left to Ms Kenosi's second princess to step in. As if that wasn't enough, usual talk of favouritism reared its ugly head, forcing Miss Botswana Coordinator, Ms Dorcas Thobega to make a statement denying the allegations.
Social media was awash with allegations of the Policy Director at the Ministry of Youth, Lawrence Ookeditse being involved in a sexual relationship with one of the top 12 contestants. Damning screenshots of their alleged conversations were leaked on social media pages. Dismissing claims of possible favouritism, Ms Thobega said;
"Firstly, Mr Ookeditse is not a judge. They are of course the main sponsors of the event and we work with them. We really do not know anything about the scandal and we cannot say it's true or it's not true. However, what we can say is that the girl linked to the allegations knows the rules and regulations and things they are not do while in the boot camp."
When all is said and done, however, let's not forget that we have a new Miss Botswana to celebrate and throw our weight behind her. Miss Nicole Lisa Gaelebale, we congratulate you and wish you well. We would like to take this time to extend our congratulations to your runner-up princesses, Neelo Nthobatsang and Uua Murangi, too.
---
Did you watch the pageant? What do you think of the results? What do you think the organisers of Miss Botswana could do differently to improve the pageant? Please share your thoughts with YourBotswana.
Images courtesy of – Miss Botswana 2017/2018 Facebook page