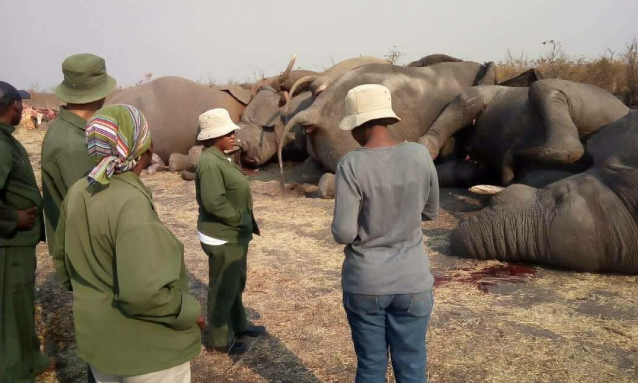 Nata-based Botswana Power Corporation – BPC electricians this week came across a heart-wrenching scene when they found nine elephants dead at the Dukwi quarantine camp.
BPC electrician, Thabo Nlashiki said in an interview with BOPA that they had experienced some instability within their system over the weekend and decided on Monday to check their power lines along the quarantine. He explained that it was during their patrol that they had stumbled across the heartbreaking scene. Eight of the nine elephants were sadly already dead and the culprit appeared to be a broken power line along which they were discovered.
Mr Nlashiki said they observed that the herd had destroyed an electric pole where there was a water leakage on the pipeline. He explained that they cut off the power to save the ninth elephant but unfortunately, it too succumbed. He said, however, that they managed to secure the area to protect the environment, as a fire had broken out in that area which they managed to bring under control.
An official from the anti-poaching unit said the animals were attracted by stagnant water caused by leaking water pipes, which in some instances led to such disasters. He appealed to the relevant authorities to address the challenges.
Reference: BOPA