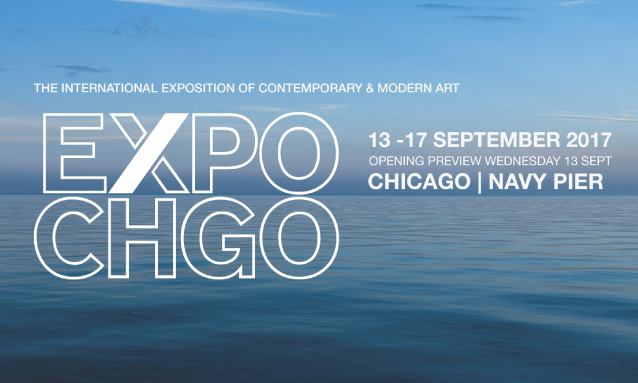 Botswana's own artist, Meleko Mokgosi (pictured below) is making waves at the ongoing sixth edition of the Expo Chicago fair. Tony Karman's revival of the long-standing but lapsed Art Chicago, lured first-timers like Lévy Gorvy and Larry Gagosian, demonstrating that even international titans are happy to bring their wares to the Windy City as well as proof that Mokgosi getting a vote of confidence is no mean feat!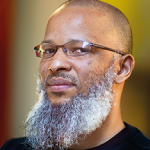 Meleko Mokgosi among "the 7 best artworks on offer at expo Chicago 2017"- "among the standouts are works by a painter from Botswana and a central figure in the pictures generation."
Botswana-born Meleko Mokgosi likes to work big; one multi-panel painting of his extends to some 60 feet long. The works on paper on view at Honor Fraser's booth are as wide as 12 feet, on a single sheet. Mokgosi may have made his initial art-world splash when he won the inaugural Mohn Award at the Hammer Museum's Made in L.A. biennial in 2012 (for that 60-foot canvas), but he had already had a residency at the Studio Museum in Harlem and earned an MFA at UCLA. This was after completing the Independent Study Program at the Whitney in New York, and the Affiliate Independent Study Program at London's Slade School of Fine Art, no less.
In a mesmerising untitled 12-foot drawing here, two seemingly identical men in black suits flank a woman in a wedding dress. All are mysteriously stone-faced. Wide swaths of untouched paper abut brushy treatments of a lemon-yellow wall, hung with portraits. Some come from the artist's family, some from the Botswana newspapers. Mokgosi often treats the cruel history of British colonialism in Botswana, but here, he seems content to give his inscrutable figures a grand stage from which to gaze on the viewer.
---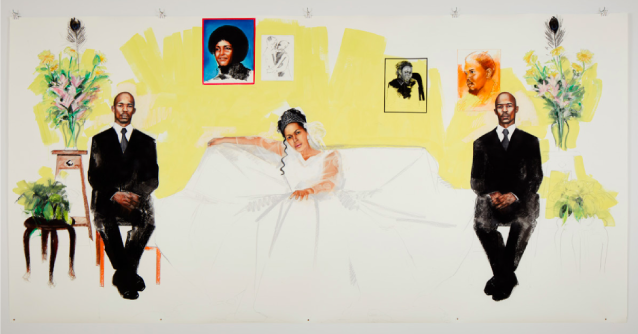 Image source: news.artnet.com – courtesy Honor Fraser.
The works on offer range from $20,000 to $45,000. The untitled work with the three figures (pictured above), dating from 2016, is tagged at $30,000.
---
The Expo Chicago fair 2017, which is running from September 13-17, is being held at Chicago's Navy Pier.
Source: expochicago.com