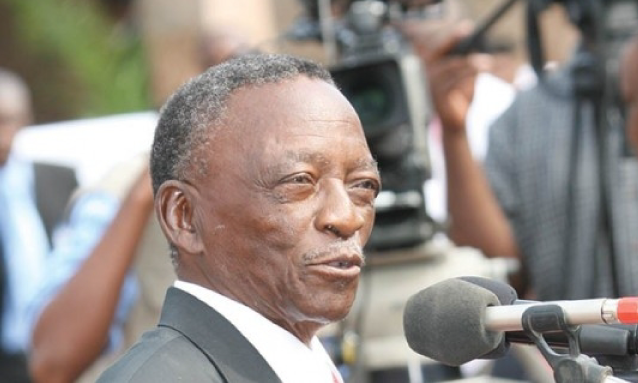 Botswana's former Education Minister, Kebatlamang Morake has died. Morake, who also served in various ministries and at one point acted as the country's President, died on Tuesday morning at Nyangabwe Referral Hospital following a lengthy illness.
Nicknamed 'Baby Shoe' because of his tiny stature, Morake was the first Botswana Democratic Party's Executive Secretary. He came from the golden generation of patriots who were charged with turning Botswana; a desolate, poor and desert country into one of the world's best democracies with high economic growth rates.
He began teaching in 1953 and was sent to Newcastle-on-Tyne, England in 1965 for further teacher training. While still a teacher, Morake joined the BDP in 1962. Following Botswana's independence in September 1966, he was sent to Britain, West Germany, Zambia, Tanzania and Kenya for political training. On his return, he was appointed Executive Secretary of the Botswana Democratic Party and editor of the party newspaper Therisanyo. From January to March 1967 he went to the US as a guest of the State Department to study Political Administration and Organisation.
After the 1969 general elections, he became a Specially Elected Member of Parliament and Assistant Minister in the Office of the President, responsible for Information and Broadcasting.
He undertook assignments for Botswana's first president, Sir Seretse Khama, sometimes representing him at various meetings. In 1970 he studied Broadcasting Services in a study tour of Britain. At the government reshuffle in April 1972, he was switched to Local Government and Lands as deputy to E. M. K. Kgabo. A major breakthrough in his political career came in 1971 following the appointment of former Mmadinare MP, Amos Dambe as Botswana's ambassador to the United States of America. Morake contested and won the Mmadinare by-election.
He was appointed the assistant Minister of Local Government, and would later become full minister in the same ministry. Morake once again won parliamentary elections in 1974 and was appointed Education Minister and went on to serve in that portfolio for 15 years. He left active politics after losing the 1994 general elections.
He was 86 at the time of his death. May HSRIEP.
References: BOPA, MmegiOnline, prabook.com