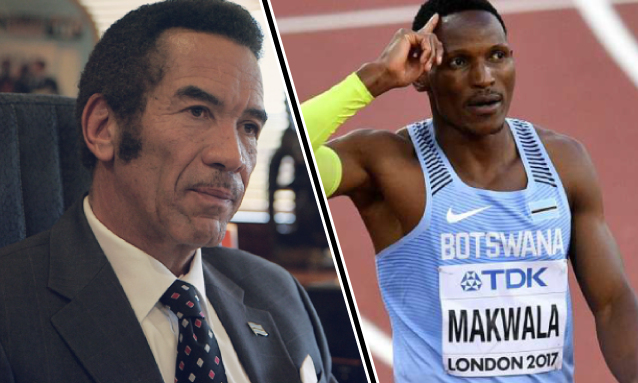 President Lt Gen. Dr Seretse Khama Ian Khama says the government will honour Isaac Makwala's performance, zeal and determination at the just ended World Athletics Championships in London by naming one of the envisaged sports complexes to be built around the country after him.
President Khama said the number of envisaged sports complexes would be increased from 20 to 21. President Khama made the announcement on Thursday during a soup kitchen supper in Tutume. He said this gesture would serve as the government's honour of the athlete who displayed zeal when representing Botswana at the championships.
He noted that Makwala faced many obstacles at the championships and that he was denied the opportunity to participate in his favourite 400 metres race. Additionally, he said the government was determined to encourage the athletes and as such, it was befitting to honour Makwala. Mr Khama said Makwala not only raised the country's flag high but was also a role model to young sportsmen and women.
Regarding the sports complexes, President Khama said the government planned to build one in each constituency. He explained that the plan was shelved during the recession, but that it would be revived in the next financial year.
President Khama also noted that constructing sports complexes around the country proved cheaper than constructing stadiums. He said the Ministry of Youth Empowerment, Sports and Culture Development has decided to build sports complexes nation-wide to bolster sports in each constituency.
Reference: BOPA