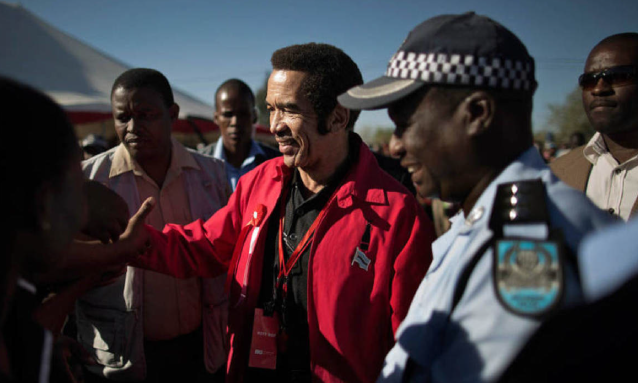 President Lt Gen. Dr Seretse Khama Ian Khama on August 4 bestowed medals for Meritorious Service and Botswana Police Distinguished Service Order upon Botswana Police senior officers as part of the Botswana Police Service's 133rd anniversary celebrations. Three officers were awarded the Meritorious Service medals while a further 48 Distinguished Service Orders were handed to 25 senior officers and 25 officers from the rank of inspector to sergeant, among them two retired sub-inspectors and a sergeant.
Meanwhile, Vice President Mr Mokgweetsi Masisi and Minister of Defence, Justice and Security Mr Shaw Kgathi, on behalf of President Khama, graced Long Service and Good Conduct Medals upon 163 officers, among them two senior superintendents. The government awards medals to recognise and thank deserving members of the Botswana Police Service for their outstanding service and conduct as well as to boost their morale.
---
A brief history of the Botswana Police Service
The Botswana Police was founded in 1884, when it was known as the Police Mobile Unit.
Established during the colonial era, the Bechuanaland Mounted Police followed in 1885, headed by Lieutenant Colonel Frederick Carrington. It employed 500 men.
A year later, it became the Bechuanaland Border Police and changed again in 1902 to Bechuanaland Protectorate Police.
Following Botswana's independence from Britain in 1966, the name changed again to Botswana Police Force.
At the time, Batswana generally viewed the police institution as foreign, especially because most of the police officers were migrants from Basutoland (current Lesotho) and Southern Rhodesia (now Zimbabwe). The prerequisites for joining the police service hinged very much on physique and height as opposed to academic qualifications.
Based on this, police officers were seen as confrontational, scary and always ready to pounce on the unsuspecting public, creating a rift between the police and the public they were supposed to serve.
This went on for years until the government resolved to employ Batswana, who had previously only ever been brought in as messengers with no real responsibilities. However, the cushiest positions remained in the hands of the white colonial masters until 1971, when Mr Simon Hirschfeld was appointed the first Motswana Police Commissioner. He retired in 1995 after serving as Police Commissioner for 24 consecutive years.
---
Simon Hirschfeld holds the record for being the longest serving Police Commissioner in the world. He was Botswana Police Commissioner for 24 uninterrupted years. 
---
Again in 1971, the first cohort of eight (8) women, comprising Ms Cynthia Keakantswe, Sylvia Muzila, Ednah Gilika, Kgomotso Mosimanyana, Didimalang Koronomio, Vivian Mhaladi, Audry Busang and Annah Matshego was recruited into the Police. The number of women in the Botswana Police Service has since continued to grow exponentially over the years.
With the merger of the Botswana Local Police Force and the Botswana Police Service merger in 2009, the Botswana Police Service workforce is a far cry from the 500 men it employed in 1885, which has soared to well over 10 000 today.
Apart from regular police officers, there are also Special Constables, who were introduced in 2004 to enhance police visibility.
Late in 2009, the Botswana Police Service introduced Police Volunteers to further augment police patrols.
Reference: BOPA, Botswana Government website
Image source Mail & Guardian