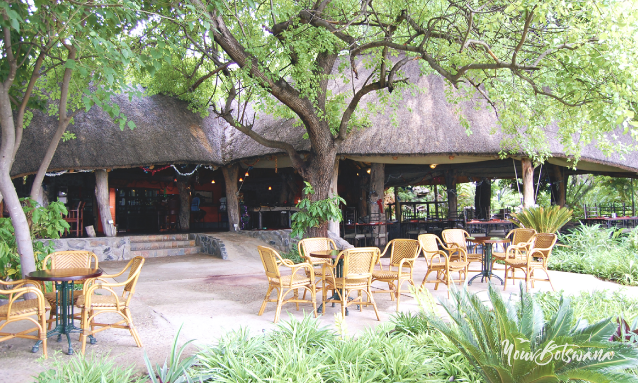 We recently ran a review of Thamalakane River Lodge in Maun, which we visited over the Christmas break. Like we indicated in the review, we loved it; from the aesthetic value, the ambience, the views to the delicious food. Quite simply, it was fantastic!
Part of the appeal of Thamalakane River Lodge is its proximity to Maun, the gateway to the Okavango Delta. As most people will already know, based on the fact that a break in the Delta costs an arm and a leg, not everyone can afford to visit. Plus there's the small matter of accessibility i.e given the location, you can't just rock up at will. Thamalakane being one of the gorgeous lodges dotted around the outskirts of Maun makes for a very ideal alternative to an all-out safari experience.
So it came as a blow when news reached YourBotswana this week of Thamalakane River Lodge now being closed to locals. Someone posted quite a damning thread on Facebook and the ensuing comments from various unhappy people suggested that it could be race related. Refusing to believe the rumours, YourBotswana contacted management via Facebook, seeking clarification but have yet to hear back.
As cosmopolitan as Maun is and as ironic as it may be, it wouldn't be too far beyond the realms of reality for the rumours to be true. Being from Maun myself, I wouldn't at all be surprised if indeed the decision was made along colour lines because I have seen it happen with some establishments with my own eyes. However, these things don't happen overnight and can usually be seen rearing their ugly head from time to time. In all my time of knowing of the lodge, I've never heard ANY allegations of racism. Based on our recent visit and personal experience of the lodge, I would be very, very surprised if indeed these rumours were true. The reception we received was warm and we even got to chat with two of the white managers, who in fact initiated the conversation.
As I kept a hawk's eye on the unfolding heated discussion on Facebook, it soon became apparent that the initial story wasn't quite the full truth! For starters, it appears the lodge recently changed hands, and as we all know, a change in ownership/management can come with various changes. One of those changes it appears, is that residents (not just black people or locals) are sadly no longer able to rock up as and when they wish but are now required to call ahead to reserve a booking. This is standard practice at many lodges because it helps them manage the numbers and of course, they also have to be mindful of the ambience they're keen to promote for the benefit of the guests who have chosen to stay within their dwellings.
With no explanation from Thamalakane River Lodge, I can't definitively say this is indeed the case here. However, based on my experience of the place, I'm inclined to believe it's what's more than likely the case. As inconvenient as it may be for us residents, I would personally understand why management made this unpopular and difficult decision. I would even go so far as to say the reason that people are so obviously upset and up in arms over this new development is because they know Thamalakane River Lodge is a great hang out. Personally, if the place were known for its racist tendencies, as has previously been the case with some establishments in Maun, I honestly would not care if they did bar people along colour lines because I wouldn't want to be there in the first place.
---
Were you recently turned away from Thamalakane River Lodge? What reasons were you given? Please share your story with YourBotswana.
Thamalakane River Lodge management, if you see this post; it would be great to hear from you, please get in touch and tell us what truly is going on.
---