Following a proposal by the Minister of Youth Empowerment, Sport and Culture Development, Mr Thapelo Olopeng, Lt Gen. Dr Seretse Khama Ian Khama is now Botswana's patron of performing arts, which include the President's Day Competition. In acceptance during the 10th President's Day Competition Awards ceremony in Gaborone on Tuesday, President Khama said he would not just be a patron, but would actively promote arts and cultural activities in Botswana.
President Khama noted that Botswana is a great nation not through military might, but through the achievements it makes through cultural diversity, democracy and the freedom that it continues to afford its citizens, which he said would be closely guarded and cherished. He said Botswana through democracy, humility and its cultural tolerance has developed over the years and would continue to sustainably exploit and nurture arts and culture.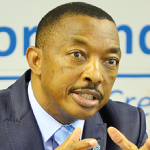 The president further said Botswana's freedom and democracy are not negotiable and warned the nation against dividing forces whose aim may be to dismantle the serenity and peace enjoyed by the general populace.
The President's Day Competitions, which began in 2008, are President Khama's brainchild. According to Minister Olopeng (pictured), the competitions have immensely contributed to the development of Botswana's creative industry and have indisputably improved the lives of many artists around the country.
Speaking at the event, Mr Olopeng said President Khama's vision was to revive and develop culture; to see a society that is proud of its culture, a society that celebrates its culture and a culture that can contribute to the economy.
Minister Olopeng thanked arts and culture practitioners, past winners, collaborating partners and his staff for their hard work and selflessness in making the competitions a resounding success.
Since their inception in 2008, the competitions have witnessed growth in participation from 3 274 artists to 18 971 participants across various categories.
Mr Olopeng said his ministry continues supporting the winners by facilitating their exposure through participation in international exhibitions, festivals and cultural exchange programs.
President Lt General Dr Seretse Khama Ian Khama was presented with a certificate of appreciation by Minister Thapelo at the President's Day Competitions Awards ceremony in Gaborone. The awards ceremony was President Khama's last as sitting President.
Reference: BOPA