Hot on the heels of Peter Butler parting ways with The Zebras, the Botswana senior national football team, The Zebras have suffered another blow and dropped 17 places in the latest FIFA rankings released this week. Botswana is now ranked number 138 in the World and 40 in Africa.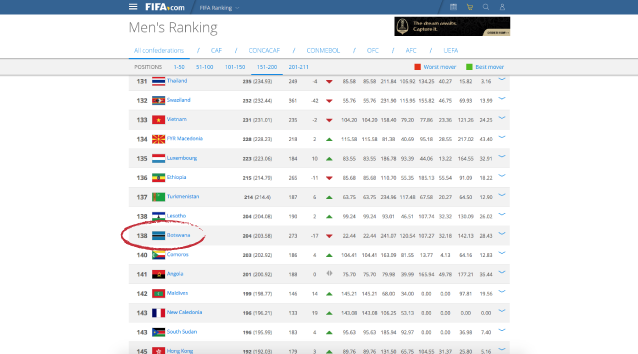 This will no doubt come as a blow to football lovers in Botswana. With The Zebras, it always feels like two steps forward, ten backwards. Just when you think the team might finally get a break, something happens to pull them right back and it's not for lack of trying on the team's part. Often derided for being largely an ageing team, virtually all the players play for the team out of passion, not so much for the perks. Because let's face it, in Botswana there are hardly any incentives to bolster performance where football is concerned. Bereft of lucrative sponsorships, the poor players must look to fellow professional football players the world over with pure, unadulterated envy.
Not even from a greed standpoint, but rather because for them, playing football in Botswana is a true labour of love. While international football players, even as close as neighbouring South Africa, play football full-time and are handsomely rewarded for their efforts, a lot of Batswana players have to take on full-time jobs as well as play on the side, because the 'salaries' simply aren't anywhere near enough to survive on!
Is it any wonder then that The Zebras are always trailing way behind their African counterparts and can never hope to take on teams beyond Africa? Botswana football is light years away from being truly professional and given the level of passion from the players and Batswana in general, we can only hope the situation changes for the better in our lifetime.
Reference: BOPA