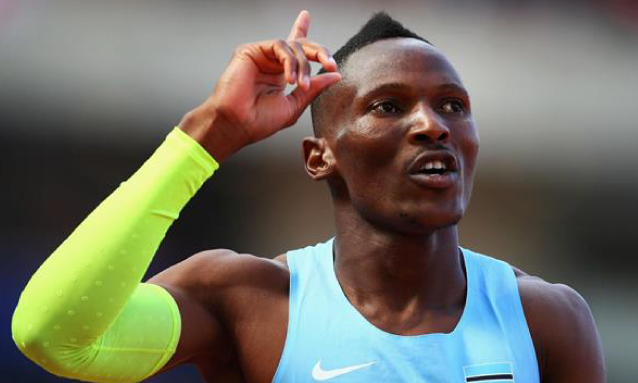 Botswana's 400-metre runner, Isaac Makwala has once again emerged victorious at the Resisprint meeting in La Chaux-de-Fonds, Switzerland, after clocking his Seasons' Best in both the 400 and 200-metre races on July 2.
Makwala finished in position one with a time of 44.80, followed by Dutch sprinters Liemarvin Bonevacia who clocked 45.63, and Bjorn Blauwhof with 46.67. Makwala has previously shone in the Resisprint meeting, reclaiming his African Record title from South Africa's Wayde van Niekerk with a spectacular time of 43:72 in 2015. Wayde had snatched Makwala's AR of 44.01 at the IAAF Diamond League meeting in Paris, with a time of 43.96, but it took Makwala a day to snatch back his AR.
Athletics pundits believe the Resisprint meeting is very lucky for Makwala because while he can naturally have off days elsewhere during the season, he always seems to perk up and raise the bar at the Resisprint meeting.
In 2013 Makwala, clocked his SB of 45.86
In 2014 he recorded 44.01, also an African Record and Meeting Record
In 2015 he clocked yet another Africa Record of 43.72
Makwala' star continued to shine ever so brightly in the 200-metre event, which saw him beat seasoned 200-metre stars. Again, he breezed into position one with 20.38, his SB. Hot on his heels was Liemarvin Bonevacia of Nederland with 20.77 in position two, while South African, Anaso Jobodwana came in at position three with 20.78.
Again, Makwala has a history of doing exceptionally well in the 200-metre event at the Resisprint meeting, as the figures speak for themselves.
In 2013 he clocked 20.21, which was his Personal Best, National Record and Meeting Record. In 2014 he ran 19.96, which was a National Record and Meeting Record as well.
Very commendable work, Isaac! Very well done and way to go.
Reference: BOPA
Image source: IAAF