This week proved very fruitful for Botswana's athletes, as they continued to display a winning streak that doesn't show any sign of waning anytime soon! The Paris Diamond League proved lucky for Botswana's 2012 Olympic Silver medallist, Nijel Amos as he valiantly returned to stardom with his stunning performance. Back on form, Nijel finished in position one with a time of 1:44.24. The last time he did so well was in the Monaco Diamond League, where he finished second after Bosnia and Herzegovina athlete, Amel Tuka with a time of 1:42.66.
This time around, it was evident that for Nijel, second place would just not do as he took full control of the race right from the outset. Victory was the name of Nijel's game as it became apparent that he had changed his tactics; sniping at the heels of and piling pressure on Kenyan Nicholas Kiplangat Kipkoech. However, in the remaining 200 metres, Kenyan Kipyegon Bett emerged hot on Nijel's heels, fully intent on snatching victory from him.
Not to be intimidated, within the last 120-metre mark, Nijel dug deep and proved that he had been working on his speed and endurance as he zoomed comfortably past Bett. Nijel's efforts were handsomely rewarded when he breezed through the finish line ahead of his opponents. With a time of 1:44.24, this was Nijel's Season Best (SB), followed by Bett with 1:44.36 and Kenya's Ferguson Cheruiyot Rotich in third place.
Following his victory, Nijel told BOPA that he was happy with his performance in Paris given the fact that he managed to clock his fastest time since 2015. Quizzed about his new running strategy, he said they were going to take each race as it came and his coach told him to go out there and follow his instincts.
"I decided to be in control. Run my own race and I will always follow my instincts in each race and give my best, but at the same time after injuries, one has to be careful," he said.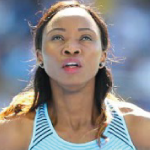 In the 400-metre women's event, Lydia Jele finished in position four with a no-so-shabby time of 51.96. Lydia wasn't able to hold off stiff competition from Jamaican Novlene Williams-Mills who snatched number 1 with a time of 51.03, USA's Courtney Okolo in second with 51.19 and Jamaica's Shericka Jackson in third with 51.91.
Reference: BOPA
Image source: schaap.st.st