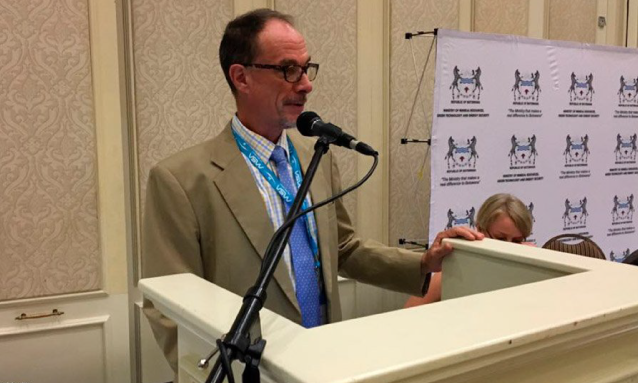 Botswana's diamond sector is not going to disappear but it is also not going to grow. Increasingly, Botswana is a services-driven economy, with the real growth coming from financial business services, hotels and restaurants and tourism; Econsult MD, Dr Keith Jefferis told the Botswana Resource Sector Conference on Monday.
It emerged during the conference, that the era of Botswana being a mining -driven economy had ended and foreign direct investment (FDI) into Botswana had collapsed to below 2% of gross domestic product (GDP) in the last couple of years from 6% and 7% a year in the early 2000s.
"This is pretty disastrous because we really need FDI and we have an FDI problem," Jefferis told the conference.
It also came to light that 20 000 people enter the labour market each year, but only 2 000 jobs were being created a year, with capital-intensive mining doing little on the jobs front. Although mining has declined, Jefferis was not negative on mining, citing it as having an important economic role to play going forward.
"But we have to be realistic about what it's going to bring to the economy. The future of mining is not going to be like the huge cash cow it was in the past. Mining is risky and risk means there will be successes and failures," he said, pointing to mine closures in the last two years.
Diamond exports, including aggregation, still represent the overwhelming 74% of exports and the 20% unemployment rate are probably under recorded.
"Diamond sales have been very volatile," Jefferis said of the ten diamond sights a year, which he described as being "very bad" in 2014/15, when Debswana was producing more diamonds than it could sell, despite the cutbacks in production.
Jefferis made the point that exports were far less diversified and over a 25-year period, exports had hardly diversified at all and were still diamond – dependent to the extent of 66% last year. Botswana also exports copper, nickel, gold, soda ash and beef, but in significantly lesser volumes than diamonds, which has major implications in an ex-growth scenario.
"Even if we produce 25-million carats a year forever, the growth rate is zero, and at best we'll plateau, and the diamond industry will not contribute to economic growth on that basis," the former Deputy Governor of the Bank of Botswana reported.
Botswana growth on a slow-down since 1990
Since 1990, Botswana's growth has been slowing to around an average real GDP growth of 4% a year and, with the population growth of around 2% a year, it would take 35 years to double per capita income. GDP per capita is currently at the $7 000 mark.
As repeatedly noted by countless industry experts; going forward, the conference concluded Botswana needs large infrastructure investments, including in railways and ports.
If coal bed methane's (CBM's) future is to be realised, transmission would be required, and for mining to go ahead, additional water infrastructure would be essential. The private and public sector would have to collaboratively finance the infrastructure. It was revealed that beneficiation had been moderately successful in the diamond sector, with cutting and polishing being far less successful than going downstream in diamond sorting, aggregating and trading. Coal beneficiation was on the agenda, mainly through power generation, with CBM also earmarked to fuel power generation. The attempt to produce glass from soda ash was a disaster.
There was one policy commitment to produce less carbon dioxide and another to build more coal-fired power stations, which were in conflict. On a more practical level, the biggest obstacle to obtaining private sector finances was the government's struggle to come up with power purchase agreements.
While we're all aware of the situation, these are pretty sobering words from Dr Jefferies and a somewhat gloomy outlook for Botswana's economy. Do you think the government is doing enough to diversify the economy away from diamonds? If not, what do you think could be done to revive the economy? Please share your views with YourBotswana.
Reference: miningweekly.com
Image source: engineeringnews.co.za