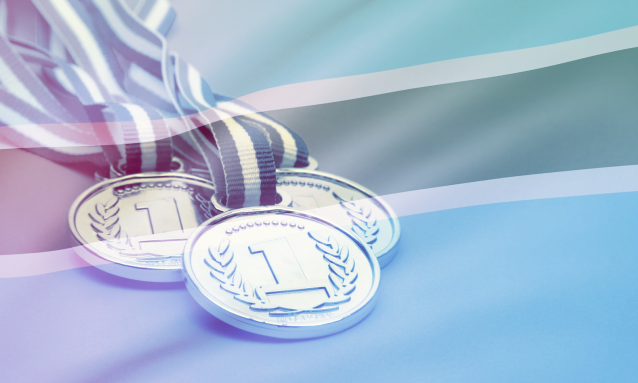 The Botswana Athletics National Team's 2017 winning streak isn't showing any sign of slowing down, as they ascended to the top of the leader board at the just ended 2017 CAA Southern Region Senior Championships held in Harare, Zimbabwe. The triumphant team collectively brought home an impressive bounty of 12 gold medals, four silver and four bronze medals.
In the 100-metre men's race, Karabo Mothibi scooped gold with a time of 10.29, while Loungo Matlhaku clocked 23.85 to win gold in the 200-metre event. Botswana continued to shine with Galefele Moroko winning gold with 53.99, with Goitseone Seleka with 55.84 hot on her heels in the women's 400-metre race.
Not to be outdone, the men also brought it home in the men's 400-metre race! Leaname Maotoanong bagged gold with 46.11, silver went to Pako Seribe with 46.47, while Omphemetse Poo took bronze with 46.68.
Shepherd Kenatshele was in pole position in the 800-metre race with a time of 1:49.00, with Sylvester Koko snatching gold as well with 3:54:00 in the 1500-metre race.
In the women's 5 000-metre race, Mema Tiango and Marea Maano won silver and bronze medals respectively.
The rest of the winners…
110 hurdles – Kemorena Tisang won silver with a time of 14.49 and went on to win bronze in the 400-metre hurdles with 55.58.
In the 4×100-metre women's relay, Botswana recorded a new National Record (NR) of 42.04 to win a gold medal.
The men's 4×100-metre race team also recorded a new National Record of 38.62, winning gold. Both the men and women 4×4 100-metre relay teams won gold medals.
Ruri Rammokolodi won gold with a jump of 7.52, while Gobe Takobana didn't do too shabbily with position three in the long jump with 2.05 metres.
Athletics coach, Mogomotsi Otsetswe said he was happy with the team's performance despite fielding their development side. He said that based on observations made at the games, they realised that there was no gap between their elite athletes and the development side.
Botswana held South Africa back into second position with nine gold, 10 silver and five bronze medals and Mozambique into third with two gold, two silver and three bronze medals.
In 2015, Botswana finished in the second position, scooping five gold medals, seven silver and five bronze. This year's games ran from June 10-11.
Well done and way to go, Team Botswana! Pula!
Reference: BOPA